The weird distribution of fast food across the United States is an endless source of conversation ("What do you mean you don't have Sonic?!"), and a pretty fun thing to map. We've seen these sorts of data visualizations for McDonald's, burger places, and breakfast haunts, but over at FlowingData, the indispensable Nathan Yau has finally tackled the geography of American pizza chains.
The map above shows which of nine major pizza chains is nearest, depending on where you are in the U.S. If you're looking for a little more granularity, the maps below show the geographic distributions of the nine featured chains. If you're more worldly than I am, maybe you'll have heard of all of them.
Weirdest distribution goes to Godfather's, which looks like it's trying to become THE premier pizza destination of Iowa, Western Kentucky, and Florida.
G/O Media may get a commission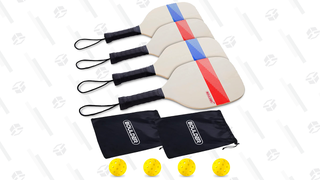 It's Pickleball
Pickleball Sets