Marcus Smart deserves far more than the one-year, $6 million deal he'll likely have to settle for. And he's angry about it. According to a report by the Boston Herald, he has not been contacted by Celtics management—and, presumably, any other teams'—since free agency began on July 1, and he's "hurt and disgusted."

Jokic? Embiid? The NBA MVP is obvious... right? | Keep it a Buck(et)
It looks as if he's turned his ire onto, specifically, Celtics president of basketball operations Danny Ainge. From the Herald:
"He loves the Celtics, but with these crickets he's hearing, he's hurt and disgusted by it," a person with knowledge of the situation told the Herald.

[...]

"He's just hurt and frustrated that Danny hasn't reached out. That's the most discouraging part of this whole thing. The last contact was a few days before free agency started."
The Herald reports that Smart thinks he's earned a $14-15 million per year contract. He's obviously gotten nothing close to that, and that's mostly just down to bad timing.
If this were the 2016 offseason, when the cap spiked from $70 million to $94 million, it would be easy to imagine Smart scoring one of those batshit four-year, $50+ million deals that were given out to the likes of Tyler Johnson and Jordan Clarkson, guards who have been far less productive than Smart has been throughout his first four seasons.
G/O Media may get a commission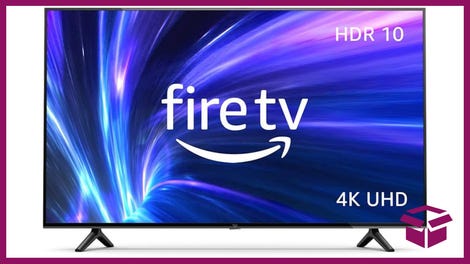 42% Off
Amazon Fire TV 50" 4K Smart TV
But, alas, because of that very offseason, and the absurd deals that came with it, only a handful of teams have the requisite cap space to even give Smart an offer above the one-year, $6 million qualifying offer the Celtics have already tenured.
Smart is going to have to take a one-year deal of some sort, and if he has to go back to Boston, he seems ready to bolt at the next available opportunity. The Herald's source basically came out and said as much:

"If that's the indication the Celtics are giving him—a one-year deal—then absolutely, yes, he's prepared for it," said the source. "And that doesn't bode well for the Celtics if it comes down to that."
You'd think that some team would offer a one-year deal higher than that $6 million figure just to screw with the Celtics and make them pay more to retain Smart's services. (Boston can match any offer sheet Smart signs with another team.) Ainge has been called everything from a thief to a snake, after all, and his recent fleecings of the Cavaliers and Nets, among others, probably haven't built him very much goodwill around the league.
When all is said and done, Ainge will probably get Smart back for one year at a relative bargain. He'll just have to hope that the production his team gets out of Smart outweighs the effects of having an extremely pissed off guy in the locker room for 82 games.