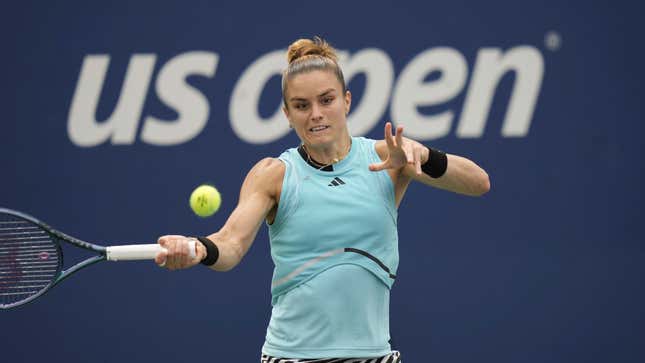 This is how marijuana gets a bad rap. A tennis player says she could smell weed during her match, and goes out of her way to say it didn't affect her whatsoever, yet media outlets still take it out of context. During a changeover, Maria Sakkari informed the chair official that she detected a hint of something wafting through the USTA Billie Jean King National Tennis Center in New York.
"It was weed," she said after the match. "The smell, oh my gosh."
Though the No. 8 seed was upset by Spain's Rebeka Masarova, 6-4, 6-4, it continued a trend of first-round losses in Grand Slams for Sakkari. The aroma of herb was merely a personality trait of the tournament, like the grass courts at Wimbledon, or the clay at Roland Garros that also fell the 28-year-old Greek this tennis season.
"We can't control it, it's a back park and people can do whatever they want," she said.
"I was not affected by this smell in any way. It was just a comment, it has nothing to do with the match... It's irrelevant. You don't think about it, all you care about is winning the match. I didn't pay much attention."
Sakkari said she "smelled it yesterday in practice, too," and New York's potheads are nothing if not consistent. So not only was she unaffected by the weed smoke, but she also was prepared for it.
Print a retraction, you cowards! Yes, Nick Kyrgios complained about it last year, but he's a diva, and if thousands of New Yorkers can exercise in the haze of Central Park every day, Kyrgios can certainly get through a few tennis matches in Flushing Meadows once a season.
Weed is pretty much legal, we're all adults, and it's a socially accepted vice in 2023. This isn't a '50s ad office, where the second-hand smoke could literally kill you. It's open air, and I was told that you'd have to hotbox a phone booth for multiple hours in order to get high without inhaling directly, or use second-hand inhalation as an excuse for failing a drug test.
This will not stand, you know, this aggression will not stand, man.