Maria Sharapova's management agency made a 55-minute, highly-produced, glorified advertisement that they're calling a documentary about her 15-month suspension from tennis after failing a drug test at the 2016 Australian Open. The movie has all the trimmings of a documentary—tight shots of Sharapova sitting cuddled up on a couch on a comfy-looking sweater while she extemporizes the kind of fake-deep sayings you might find on a bad motivational poster, gritty black-and-white photos that intersperse the various scenes, date lines with momentous subtitles like "The Vindication" and "The Return," footage of her as a child splashing water at the camera, soaring music to accompany the parts about her success and tinkling pianos when she talks about her dad and her friends (none of whom she mentions by name, noticeably), slow-motion shots of her hitting tennis balls, slow-motion shots of her laughing, slow-motion shots of her fixing her gaze into the distance.
With even the slightest of squints from the viewer, it's easy to see the movie for what it really is: a tribute to Sharapova's sponsors, replete with blatant product promotion, and, most importantly, yet another attempt to reposition and bolster Brand Sharapova. "She's just a regular person," the documentary wants you to believe, "dealing with her fair share of hardships and coming out on top—what an inspiration!"
Two minutes into the video, there's a grayscale shot of Sharapova sitting under a pier. The swirling ocean. The churning surf. Then, Sharapova's voiceover:

"My life is a very small part of the universe. Sometimes the ocean is very still and very solid and it's like ice and you only see its reflection. And other times it's so turbulent and violent. We go through our own stillness and our shadows and then we go through the waves."
Unfortunately, that's not the only time Sharapova manages to come off like the worst student in a freshman creative writing class. When talking about how she came back from the suspension, she says:
"There's a lot in me that's very much a portrait of a person that just fights. And whether that's ugly or that's pretty, I really don't care. I just believe for what is right, what I believe is my right, and what is my voice. Looking back at myself I believe in those moments I was a street fighter."
G/O Media may get a commission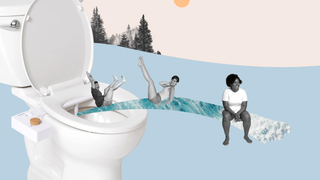 17% off
Tushy 3.0 Warm Water Spa Bidet Attachment
Then she addresses the satisfaction of getting what she wants:
"One of the biggest victories I've had this year was coming back on April 26 ... I fought really hard for that. Internally and externally. I thought about it and I wanted it and I asked for it. I asked it from lawyers, I asked it from the arbitrators, I asked it from myself, and I got that."
The "documentary" is also dotted with videos that appear to have been taken by Sharapova, of Sharapova. One of these selfie vids, which opens the movie, is from the morning of her announcement of the failed drug tests. Wearing no makeup, her voice quivering with just the right amount of emotion, she pledges to overcome ("I'm so strong, I'm going to get through it ... I'm going to prevail ... I've had the most beautiful life") the obstacle that was her own failure to abide by (admittedly stupid and increasingly arbitrary) prohibitions against performance enhancing drugs. Another of the selfie videos shows her on the phone with someone celebrating the reduction of her two-year suspension to 15 months. The feigned intimacy of this behind-the-scenes technique is as subtle as a sledgehammer, and utterly ineffective. Real people, people who know they aren't making a documentary about themselves, don't film themselves giving impromptu pep talks to cellphone cameras.
Rich and famous people thinking that a shallow, unrevealing look at a small and carefully curated subsection of their lives is interesting is nothing new, nor is taking advantage of that opportunity to sell shit. From Evian to Sugarpova to Nike to SoulCycle to Beats by Dre to Head Tennis to her new book to something called Super Goop to her upcoming cameo in a Hollywood film, the documentary is a series of subtle and not-so-subtle product placements and promotions.
All the ads apparently didn't leave much space to include any new information about the specifics of how and why she failed the drug test in the first place, or anything substantive about the widespread backlash she faced from players upon her return to the tour. She did touch on how the suspension made her feel. She said the punitive action was "very hurtful, very aggressive. It felt very violating," said she "felt small" (not easy for a woman who's 6-foot-3, she quipped), worried about being "one-dimensional," fretted about life without tennis, and shared her realization that "vulnerability was actually cool."
Hearing her perspective on what had to be an incredibly trying period was mildly interesting, but it was hard to feel like it wasn't all just building up to her carefully crafted "overcoming adversity" narrative. And beyond that, the movie didn't include much about her personal life that you can't already find filtered through and presented for mass consumption on her Instagram page—a social media account which, by the way, heavily features in the movie. There must be a real Sharapova buried underneath all those logos, but this "documentary" makes sure the person is secondary to the brand. The only thing to gather from the movie is that Sharapova was gone for a while but now is back, and she hasn't changed a bit.