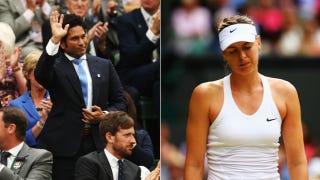 It was an especially star-studded Royal Box at Wimbledon on Saturday, including recently retired cricketer Sachin Tendulkar, very likely the greatest batsman of all time. For some reason, Maria Sharapova was asked about him:
Q. Sachin Tendulkar was the other person who came in at the same time as David [Beckham]. Do you know who Sachin is?

Sharapova: I don't.
This is not unreasonable. While Tendulkar is a huge name in his native India and throughout his sport, it is a sport that's popular in a limited number of countries. Sharapova's Russia is not one of those countries.
But large numbers of Indians, driven as much by patriotism as by #pleaselikemysport, have descended on Sharapova's Facebook page. I'm not going to count, but just about every one of the tens of thousands of comments over the last couple of days is either someone calling her out for not knowing who Tendulkar is, listing Tendulkar's career accomplishments, or merely just typing his name over and over again.
The trending #WhoisMariaSharapova Twitter hashtag was especially rich too:
Valuable lessons learned all around, mostly the fact that Twitter mobs are the same everywhere.