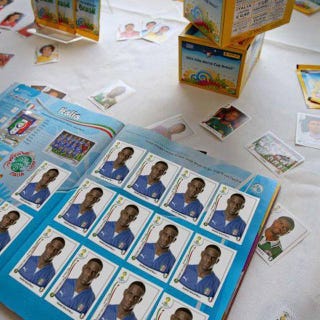 The collecting craze at this World Cup is not trading cards, but stickers. Panini's World Cup album is once again a hot seller, with collectors buying sticker packs in the hopes of completing an entire national side—or even the whole album. Mario Balotelli is his own sort of completist.
Yesterday, the Azzurri striker posted the above photo to his Facebook. Team Italy's page, plastered over with at least 14 Balotelli stickers. His Facebook caption? "WHY ALWAYS ME?" Natch.
The best part of this photo is all the scattered stickers and opened boxes around the album. It means Balotelli didn't merely find a Panini rep to give him a bunch of his stickers—he sat and went through boxes until he found 14 of himself.