Mark Cuban does not much appreciate this blog, I have learned. Or didn't, once upon a time. In fact, Cuban does not much appreciate sports journalists in general. He's been in the sports biz for 12 years and thinks the "the dumbest guys in the room are always the media guys." Cuban, of course, think everyone is dumb but Cuban. Maybe some college journalists can prove him wrong. Via his Twitter feed:
Open call for college journalism programs. I will fund a data driven study on sportsmedia standards . Tweet me a link to yr pitch #cuban$
This is kind of amusing, especially when one considers the special brand of scorn Cuban reserves for the bottom-dwelling bivalves he calls "internet reporters."You can almost hear him spitting that term like the fin-de-siecle pejorative he still thinks it is:
The internet reporters who get paid, IMHO, are to the Mavs and any sports team, the least valuable of all media....Its not like they are journalists. They are Fox News/MSNBC for sports. They may be popular, for now, but whatever benefit they served 4 or more years ago seems to have quickly disappeared.
Does Cuban believe internet journalism is going somewhere? Maybe the Dallas Morning News will have jobs for all the young pups? We may not like him ripping on internet reporters but we do agree that most people are idiots.
Since our feelings align and we qualify as a college journalism program (we have a Dicktern, after all), I wonder if Cuban would accept a pitch from this site for a "data driven study" to Reveal the Worst and Dumbest Internet Reporter of All Time. We can do that here.
G/O Media may get a commission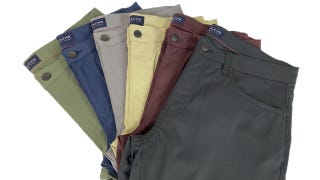 JACHS NY Fall Stretch Tech Pants