There was a moment during last night's Jets-Ravens game—a wacky, interminable affair that had so many turnovers, penalties, and replay reviews that one would have been better off watching baseball for crisp play—when it became clear that Joe Flacco and Mark Sanchez are running the NFL's most successful con. Flacco sack-fumbled in his own territory, and then, on the next play, Sanchez threw a pick-six.
The effective NFL quarterback is the quarterback who doesn't make mistakes, especially on these rosters. Alas, this season, Flacco has thrown three picks and fumbled three times. Sanchez has thrown five picks and fumbled four times. Each helped the other team score most of its points last night.
But both quarterbacks are in place, unthreatened, because they provide that piquant whiff of a franchise quarterback.
The two are kindred spirits even before the games start. They're high draft picks with red-flag college careers (Flacco's was troubling because he transferred to a I-AA school; Sanchez's because he only started one season), strong arms, "mobility," and "poise." Flacco is in his fourth year; Sanchez is in his third. More importantly, neither quarterback does much to help his team win.
G/O Media may get a commission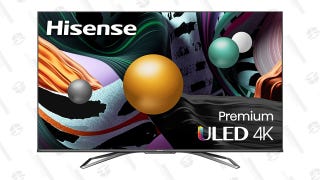 Save $350
Hisense ULED 65" Android 4K HDR Smart TV
Both teams have traditionally run-oriented offenses: The Jets ran the ball on 47 percent of all plays last year (second most in the league), and Football Outsiders ranked the Jets' rush attack fifth in DVOA. The Ravens ran it on 45 percent of plays (fourth in the league), and ranked 13th in DVOA—but they upgraded their run blocking with free agents Andre Gurode and Vonta Leach. And Marshal Yanda, Baltimore's best run blocker, was stuck out of position at tackle last year due to injuries. Go back further to 2009, when both teams, just as in 2010, earned wild card spots: The Ravens ran it 44 percent of the time, eighth most in the league, and the Jets 56 percent, most in the league. This season, both teams have mostly stopped running: The Jets have run on 38 percent of their plays, and the Ravens on 39 percent. The Jets and Ravens can run the ball, because their rosters are built to run.
But neither team ran enough last night. The box score will tell you that both teams sucked when they did run, and the Ravens did bottle up Shonn Greene all night. But that's not to say there wasn't occasional value to running: When the Ravens started running more, in the second half, they beat down the Jets' defense, and took time off the clock. They had five rushing first downs, all in the second half, and they steadied the uneasy game into a blowout. Then, they ran well and with rhythm.
Meanwhile, the Jets' four turnovers, and two of the Ravens' three, came from the quarterbacks' hands. And, even better, both interceptions (Sanchez and Flacco each threw one) occurred on jumped short routes. On his pick, Sanchez had a first and 10 at the 27, down only 10 points, and his intended target, Santonio Holmes, was just a few yards beyond the line of scrimmage. Boom, there's Lardarius Webb, returning the ball for a touchdown. If the Jets run and gain nothing on that sequence, they still cut Baltimore's lead to seven and give themselves yet another chance to wallop Flacco on the next drive. The same Flacco who was zero for his last ten passing, with an interception and a sack-fumble. You might think the Jets passed so much because they trailed all night, but all the Sanchez turnovers occurred before the game was a blowout.
Moreover, Sanchez threw short on 30 of his 35 attempts—the Jets took a huge increase in risk over running for a negligible upgrade in reward. (Mark Sanchez throwing short is not nearly as safe as, say, Tom Brady throwing short.)
It's also worth noting, in examining the Ravens' and Jets' burgeoning commitment to the pass, that neither team has a viable backup on the roster: The Jets have 41-year-old Mark Brunell, who hasn't thrown a meaningful pass since 2006 and essentially serves as Sanchez's sensei, while the Ravens have 22-year-old scrambler Tyrod Taylor. One would think pass-oriented offenses would want extra depth, but Baltimore and New York have gone to great lengths to avoid anything resembling a competition with their franchise quarterbacks. Both teams let blocking tight ends (Todd Heap and Ben Hartsock) walk, while both quarterbacks got gift-wrapped "deep threats" this offseason: Lee Evans and Torrey Smith for Baltimore, and Plaxico Burress for the Jets.
But through four games this year—and, yes, it's early—Flacco and Sanchez are ranked 23rd and 30th, respectively, among NFL quarterbacks in total QBR, which is adjusted for opponent quality and game situation. They're joined at the bottom by other magical franchise quarterback types: Kevin Kolb, Jay Cutler, Sam Bradford.
Meanwhile: Rex Grossman, Matt Hasselbeck, Ryan Fitzpatrick, and Jason Campbell have outplayed Flacco and Sanchez. Tarvaris Jackson is neck-and-neck with Flacco and well ahead of Sanchez. Hell, even Donovan McNabb's abortion of a season has been better than those of Flacco and Sanchez. It's weird, because none of these quarterbacks seem good. And they're probably not good in one sense of football, when the game is about gunslinging, and who can heave the ol' pigskin the farthest. But they don't make too many mistakes, and that's how they help their teams win.
Certainly, free agent David Garrard would help the Ravens or Jets win. So would Jason Campbell. He, unlike Flacco and Sanchez, presides as a punishing rush offense's game manager. A novel concept, we'd say, except Flacco and Sanchez used to do that, not so long ago.