Marty Brennaman has been the voice of the Cincinnati Reds since 1974, taking over for, of all people, Al Michaels. He's a legacy broadcaster, like the Bucks and the Carays; his son Thom is a FOX broadcaster, works with him in Cincinnati and was once a Cubs broadcaster. Oh, yes, the Cubs: It appears Marty is no fan of Cubs fans.
Wednesday, during the Cubs-Reds game, some Cubs fans threw some baseballs on the field after a Reds homer. Marty was not pleased. Full audio here.
This is the kind of thing, quite honestly right now, is the type of thing that makes you want to see this Chicago Cubs team lose. Among all baseball fans, and I can't attest for the Yankees or the Red Sox, because we don't see them with any degree of regularity, but far and away, the most obnoxious fans in baseball are those that follow this team right here. This is so typical of Chicago Cubs fans. You still root against them.
Huzzah, Marty! As much as we might like to join in on a Cubs pile-on ... well, Marty, the reason that Cubs fans are more obnoxious than Reds fans is because the Cubs actually have a few fans at the park. And you can't tell us that the Reds fans wouldn't do this exact same thing.
We'll let it go, though. He's old, and you can't get mad at old people when they say something dumb. (Even if your upbringing has forced you to secretly and subconsiously agree! Shhh!)
G/O Media may get a commission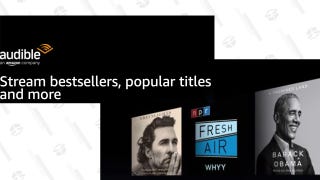 FREE
Audible Premium Plus 3-Month Free Trial
Marty Brennaman Audio [Chicago Tribune]