Maybe you already know how to poach eggs. Perhaps you were inspired by my esteemed colleague Albert Burneko's missive a few years ago, and now you're pretty confident you can poach any old egg, no problem. (Note: always poach fresh, new eggs.) You feel a little smug about it, actually—waiting for unsuspecting overnight guests to groggily wonder what's for breakfast before you wow them with your egg-poaching ability. That's great.

But even so, I'm here to tell you that you're definitely not poaching eggs enough.
First off, here's my method. Fill a relatively small pot with about five inches of water. (You can use a large pot if that's all you have, but a smaller pot will boil faster, which is important, since I'm trying to sell you on how quick and easy this is.) While that's heating up, crack eggs into a cup—I use a plastic measuring cup with a handle, but a regular mug will work. Now listen close, here's a hot tip for you: put TWO eggs in the same cup. When they hit the water, they'll separate cleanly and completely from one another, and since you're now poaching double the eggs in any given amount of time, I don't want to hear any crap about how frying eggs is more efficient.
Once the water is at a light boil—do not let it reach a raging boil, as your eggs will not like that—pour in about a capful of vinegar. (I use white wine vinegar to feel fancy.) Then, get a slotted spoon and just swirl it around in the water until you create a mini whirlpool. Do you feel a little silly? You're doing it right. Now, you want to get the eggs in the water before it stops swirling, but don't stress it too much. The swirling action helps keep the eggs self-contained, but they'll cook the same without a swirl, just a little less compactly. In exactly four minutes, you will have (two!) perfectly cooked poached eggs. Every time.
G/O Media may get a commission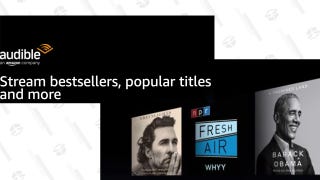 FREE
Audible Premium Plus 3-Month Free Trial
You can do all this in 10 minutes, without dirtying more than three dishes. So, yeah, you should be making these perfect pods of comparatively cheap and healthy protein all the time. And you won't get bored. Know why? Because you can put poached eggs on practically anything, turning leftovers into a fresh, super-satisfying meal in minutes.

Here is an incomplete list of things I like to top with poached eggs:
Risotto, either made specifically for this purpose, or to extend leftovers that feature a different protein.
Leftover Asian noodles or rice. Pad thai, fried rice, these delicious rice-and-salad bowls they serve at 5ive Spice in Park Slope—eat them all for lunch or even breakfast the next day.
Potato hash. Cook up a bunch of diced potatoes with an assortment of veggies, sausage, and spices. Perfect for breakfast, brunch, or dinner.
Roasted veggies. Adjust your selection to fit the season, adding olive oil, salt, and pepper for what passes as health food in my life.
Any sort of grain bowl situation. Make any one of these (or an unlimited array of permutations) on Sunday, and eat it for lunch or dinner all week.
But my favorite way to eat poached eggs is inspired by a dish at Dizzy's Diner, also in Park Slope. They call it Teo's Italian Eggs, and so do I, but I'm not sure if that's copyrighted (probably not, right?), so we'll just call it Italian Eggs to be safe.
Before you poach your eggs, slice up a bunch of old bread: sourdough is best, and get the good stuff. Cut it into a bunch of crouton-like cubes, place them on a tray lined with tinfoil for easy cleanup, and drizzle some olive oil over the whole lot. Toss them in a hot oven—I don't know, let's say 400 degrees.
Next up, tomatoes. I usually use one of those pints of cherry tomatoes that are all different colors, because it makes me feel like they could be described as "heirloom" even when they're not. Slice them all up—just in half if they're small enough—and toss them in a bowl with olive oil, salt, and pepper. This mixture gets better the longer you let it sit, so there's no rush, but now would be a great time to poach your eggs.
The four minutes while those eggs are cooking is the perfect amount of time to do some assembly. Pull out your bread cubes and place them at the bottom of a bowl, top that with the seasoned tomatoes, and toss some torn basil leaves and shredded parmesan cheese on top. When the timer goes off (you did set a timer, right?), all you have to do is scoop the eggs out of the water, give them a little shake to get rid of any excess liquid, and place them on top. I add a generous sprinkling of red pepper flakes, because that's what I do to everything I eat, and the whole perfect dish is ready to go.
(Is this basically panzanella with poached eggs on top? Yes. Add panzanella to the list of things that are great with poached eggs.)
Last thing: Please note that you can also pre-poach eggs. All you have to do is plop your poached egg in an ice bath (or run it under cold water) after pulling it out of the pot about a minute ahead of time, and it'll be good to go in the refrigerator overnight. Over on The Kitchn, they advise finishing off the poach in boiling water the next day, but for the sake of future office lunches, I tried microwaving my almost-done eggs for about 25 seconds. They tasted great, and I haven't died of salmonella yet.