We know, lady. We know. This...this was not a good match. The Netherlands took out what little air was in this match almost immediately and then tacked on a meaningless third goal in added time, which we're not even bothering to GIF because, fuck it, this was a game for third place. Good news, Netherlands! You came in third, which—if we're consulting late-90s T-shirts—means you are the second loser. Fun times.
Brazil, it follows, are the fourth loser.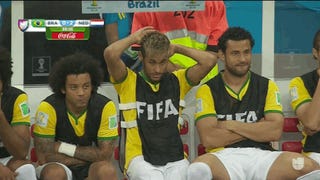 Hopefully this World Cup does not completely lurch to the finish and tomorrow's game is at least decent.
[Univision]