This is Matt Leinart. He is a rookie quarterback for The Buzzsaw That Is Arizona Cardinals, though he is perhaps better known for his career at the University of Southern California, where he won a Heisman trophy and 1.5 national championships.
Here's another thing about him: He's a bit of a ladies man. He hangs out with Nick Lachey, he parties at fancy New York nightclubs, he even apparently — agh — dates Paris Hilton. He's a hotshot Hollywood kid ... ladies love him, guys wanna be him ... you know, all that stuff.
And ... well, it looks like he's going to be a father.
Heisman Trophy winning quarterback Matt Leinart and USC women's basketball player Brynn Cameron of Newbury Park are expecting a baby boy in November, according to sources. ... Neither Leinart nor Cameron could be reached for comment.
G/O Media may get a commission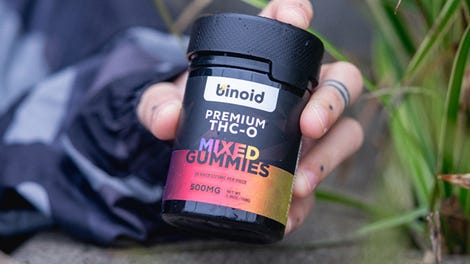 25% Off + Free Shipping
Binoid THC-O Gummies
Well then. Doing the math here ... Leinart was spotted leaving Hilton's house very early in the morning last May ... it's now September ... oh, dear.
Sources Say Leinart To Be A Father [Long Beach Press-Telegram]
Stop Snooping Into Leinart's Life [Deadspin]