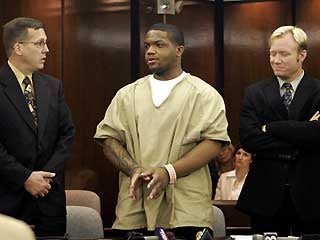 So there seems to be some question on whether imprisoned former Bronco Maurice Clarett is actually writing his own blog. Is he using a ghost writer? What's the WiFi access situation in cell block D?
Clarett, who is serving a 7 1/2-year prison sentence on a variety of charges, is currently at the Toledo Correctional Institution, from which he has been writing a blog since October. Only as we find out from The Columbus Dispatch, there is no computer access from that facility. From Bob Hunter's column in the Dispatch:
Inmates don't have computer access; his mother, Michelle Clarett, confirmed yesterday that he calls his blog entries to family members who post them for him. The entries — a mixture of philosophy, advice, famous quotations and humor — started last October.
And so the question is raised, is Clarett actually writing his own blog? Writing a blog post by calling it in to a second party seems like an unlikely, laborious process; unless, like me, you were a journalist before the days of email. Calling in a story to someone who transcribes it actually was pretty routine. Our protagonist (presumably) addresses the situation:
Ghost writer, huh? Thanks for the "backhanded compliment." It is ALL Maurice Clarett, one letter at a time, one word at a time, one sentence at a time. One conscious thought and one inspirational quote at a time. I study from the best. I only inquire about the greats that overcame great obstacles. Reading from world leaders, dictators, plutocrats, and even tyrants helps me keep my situation in perspective.
An earlier post:
I just recently had a member of prison administration question me about the authenticity of my blog. They also came to verify that I am in school. In the midst of all that, I also detected that the person was phishing to see if I was going to talk about the prison in any way. My answer to that is, "No." I have no interest in discussing prison's day to day operations. That serves no purpose in my life. I created this site for other reasons. There are too many young men and women that need hope and inspiration. To a large degree, prison doesn't exist to me anymore. I'm mentally removed, on certain levels. My mental sentence expired when I decided to educate myself. I spend all of the hours of my days developing my life's vision. I don't have the time to think about prison. I'm just waiting for my physical sentence to expire.
I guess this isn't the controversy of the decade; really, who cares if the words are actually his? And what purpose would be served by Clarett farming out the writing duties to a blog no one knew existed for the first three months of its existence? It's not like it's going to get him out of prison any sooner. And he can't be angling for a book deal: No one is going to want a prison story that doesn't include any actual details about being in prison. Clarett's posts are rambling takes on philosophy and history; just the kind of thing you'd study all day if you had nothing to do but peruse the prison library book cart.
Some close to the situation believe that the blog author definitely is Clarett. Reaction to Hunter's Dispatch column:
"That was a niece piece you wrote on Maurice in the Dispatch today. It was fair and balanced. Most importantly, it was right on point. Indeed, "The Mind of Maurice Clarett" is a sincere expression of his inner most thoughts, beliefs and life's experiences. Dominic Mango and I were Maurice's attorneys on his criminal case and I have stayed in close contact with him ever since. I am pleased to report that Maurice is doing extremely well. He has been a model inmate throughout. Now that his course materials have finally arrived from OU, he is thrilled to be back working towards his college degree from The Ohio State University."
Get busy bloggin', or get busy dyin', I guess.
Maurice Clarett On Blog Comments [The Mind Of Maurice Clarett]
Clarett Can Still Get A Reaction — Both Good And Bad [The Columbus Dispatch]
Clarett Blog Reveals A Man Working To — As Well As For — Change [The Columbus Dispatch]