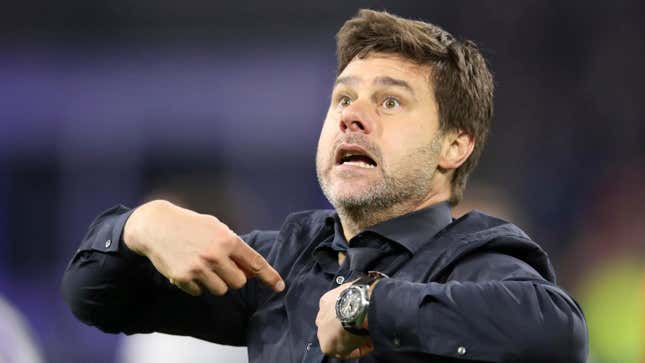 If you're a manager who loves to tell players to do one out of a club, especially as an example to the rest of the squad how things are going to work under your leadership, then boy is Chelsea the place for you. And as Mauricio Pochettino, now the new manager at Stamford Bridge, is known to wield one of the more lethal swords (what?) as he demands complete fealty from his players, perhaps he's the perfect fit. More importantly, perhaps he's the perfect fit to get bring ownership and board members to heel for an actual plan instead of the Vegas coke binge Todd Boehly and co. have been applying to Chelsea this season.
Can Liverpool Win The Quadruple? | What You Need To Know | FA Cup
Thanks to Chelsea's and Boehly's massive outlay this season, and thanks to finishing well up the track from any European places, their transfer activity for Pochettino this summer is going to be limited. At least limited to who they can catapult over the wall before they bring anyone in, because certainly, the FFP drone cameras would be very interested in goings-on if they don't. Before Pochettino can worry about who to bring in he must have a pretty good idea of who's packing.
Some of those on their way will be recent purchases, and Chelsea is going to have to take a loss on most, if not all, of them. To figure out the list it's probably best to know what Poch wants out of a team and how they play.
Pochettino's style got overshadowed by managers at bigger clubs who won more trophies than he did, i.e. Jurgen Klopp and Pep Guardiola. But Poch was just about the first manager in the Premier League to adopt a borderline-kamikaze pressing style, trying to win the back within four seconds of losing it high up the field, while keeping his fullbacks in constant motion up, and down the field. He couldn't do this at PSG — good luck getting a front three of Mbappe, Messi, and Neymar to even spell "press" — so it's not totally clear this is what he'd try to bring back to the Premier League, but it's a solid bet. The way Poch would use his deepest midfielder as an auxiliary centerback with the ball to cover for the space the fullbacks would leave as they joined the attack meant that Spurs would basically flip from a 4-2-3-1 to a 3-4-3 and back again. It's actually the reverse of what Pep does with John Stones moving from defense into midfield in possession, but the effect is just about the same. A little ahead of his time, he was.
There's a lot already in place. In Reece James (assuming he's not seduced by the siren song of Madrid) and Ben Chillwell, Pochettino will already find fullbacks that can get into the attack and back into defense while also seamlessly flipping between being fullbacks, or wingbacks. We know Chelsea are loaded with forward players, and ones who should in theory be able to run all day in his bring-the-ruckus system. If he can convince the club to pony up to keep Mason Mount around, and vice versa, he's got a natural #10 who can bounce between the middle and out wide.
But there are still too many players. As the video linked above shows, you can construct a squad of 45 if you wanted. Romelu Lukaku doesn't fit here and doesn't want to be there anyway, so that's easy enough. João Felix doesn't really press, so his loan is unlikely to be made permanent. Raheem Sterling might be deemed too old, Pierre-Emerick Aubameyang definitely will be, and it's likely American interests will be tuned down as Christian Pulisic might be deemed too fragile. Though on paper he would be exactly what Poch wants, but numbers have to be made up. Hakim Ziyech wanted out badly enough to even fly to Paris in January before the move fell through. Again, he's a player who in a vacuum might flourish in a Pochettino system but also seems more likely for the door.
But all of these players had big transfer fees and big wages, and wouldn't exactly be chomping at the bit to move on to say, Brentford, or Wolves. Finding homes for them they find acceptable won't be that easy, which will only choke off even more of their transfers, and grow the loss Chelsea take on them.
Christopher Nkuku is already on the way to punt Kai Havertz out of the #9 role, though Havertz could be reborn in the #10 role as well. But is Nkunku enough up top? May need more.
And there are holes. If Poch still wants that midfielder who can sink into defense at a whim, that's not on the current roster and also screams for Declan Rice. But Arsenal are also sending Rice all kinds of flowers and chocolates these days, and given what's gone on this past season, why would he choose Chelsea over the Gunners? Moises Caicedo an alternative? If James leaves there isn't really an alternative at right back. Is Marc Cucurella broken or can he back up Chillwell? Thiago Silva can't really play in a back four, and Kalidou Koulibaly has had a rough go in his first season in England and is only getting more into his 30s. The defense might need some buttressing.
But the biggest question for Poch is a mentality-based one. Perhaps Chelsea are so wounded by this season the players will be open to any message as long as it's a consistent and forceful one. But at Tottenham, Pochettino walked into a club that hadn't won anything full of young players eager to change (for the most part). At Chelsea, he'll find some big egos with big paychecks who have accomplished more than those he found at Spurs, and who have already gotten at least one manager fired, and a lot of them got two fired in just one season. Enzo Fernandez, Mykhailo Mudryk, Carney Chukwuemeka, and David Fofana are the types Pochettino can mold. If Poch can identify what Havertz actually is positionally and get him to blossom, and identify a younger defense, this is still one of the biggest clubs in the world. On the other side, there may be inertia baked in here that even one of the most strong-willed managers in the world like Pochettino can't shake loose.
It's always a fascinating summer at Chelsea. This one promises to be no different.
Follow Sam on Twitter @Felsgate to watch him wield the world's smallest violin for Chelsea.