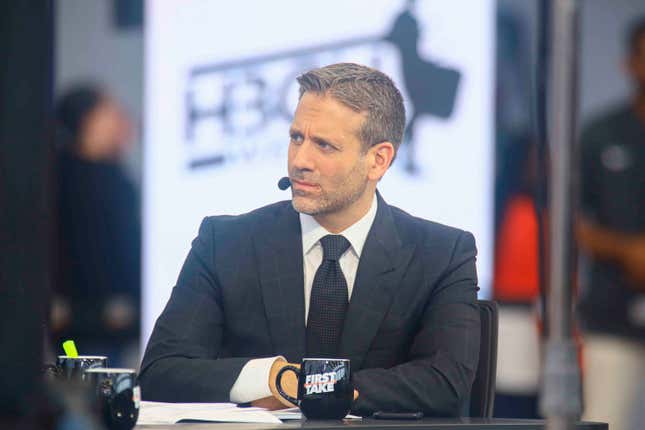 In the Summer of 2016, Max Kellerman predicted that Tom Brady's skill would fall off a cliff. "Tom Brady's just about done. It could be his next game he plays, it could be a year from now, but he is going to fall off a cliff. Tom Brady is going to be a bum in short order."

Tom Brady to the Raiders or Fox? What's next for the GOAT?
Of course, since then he's added three Lombardi Trophies to his mantle, leading Kellerman to be mocked relentlessly, make countless self-deprecating jokes, and issue multiple apologies on air for his freezing cold take.

In 2021 Kellerman tweeted:

Well… Tom Brady finally fell off the cliff. It may have taken way longer than anyone had thought, it may have taken until Brady was 45 years old, it may have taken six years instead of "his next game" or "a year from now" but it happened.

Even though Molly Querim and Stephen A. Smith laughed when he said it, the logic of it was sound. By definition, you can't be the best at a sport forever. Although at times it seemed like Brady could've played as long as he wanted, Father Time does in fact come for everyone. Look at just about any stat of Brady's from this year. Touchdown passes, quarterback rating, yards per attempt, and several others were the lowest they've been either in his career or since he was in his early 20s.
Brady had his first-ever losing season of 8-9, though it felt like a 5-11 team that got lucky a few times. The Bucs only made the playoffs because of their terrible division and were promptly steamrolled.
What does Brady do now?
There's speculation about him going to another team, but I'm not sure who would want him at this point. I can't think of a situation that's been suggested so far that makes sense for both Brady and the team.

Going back to the Patriots seems like a lateral move at best in terms of the totality of their roster. The Raiders just went 6-11, and I don't think Brady's enough to turn that situation around, especially in a division with two playoff teams. He'll probably only go there if he REALLY wants to keep playing football, which might be the case.

There's always the Dolphins, the team that Brady allegedly wanted to stage a coup on after announcing his retirement a year ago. They may have gone a pedestrian 9-8, but they were 8-4 in games that Tua started and finished, and in one of those losses it was later discovered that he sustained a concussion during the game. Tom Brady is the best, most accomplished quarterback in league history. But in the year 2023, if the choice is between a 25-year-old Tua and a 46-year-old Brady, barring devastating brain injury to Tua and the person making the decision, the answer is Tua.

Some are trying to force the idea that he'll play his last season(s) on the San Francisco 49ers, the team he watched growing up. The thing is, and I can't believe I'm saying this either, why would they want Tom Brady when they already have Brock Purdy? Have we already forgotten the game just a few weeks ago when the Purdy-led 49ers beat the Bucs so badly the network had to cut away out of respect for the Bucs' families?

The 49ers have found what every NFL team is looking for: A cheap quarterback. They can allocate more of their funds towards keeping guys like Deebo Samuel, Christian McCaffrey, Nick Bosa, and George Kittle around. Purdy is undefeated and will make $934,000 per year for the next three seasons. Why would a team where apparently any quarterback can succeed replace him with a soon-to-be 46-year-old who got paid $15,000,000 this past season? Brady got paid almost as much per game as Purdy did all season.

And I know it's not really fair to say that the game was Purdy vs Brady. They were never on the field at the same time and Brady was going against the best team in the league, but it's not like the Bucs have a bad roster surrounding him.

Yes, their run game has been terrible, and that was definitely a big factor in their failures. When a quarterback leads the league in passing attempts as Brady did, that's usually not a good sign. But he did have quality receivers to throw to like Mike Evans and Chris Godwin. And as much as Brady loved to yell at his offensive lineman on the sidelines like he's their dad, they allowed sacks just 2.9 percent of the time Brady dropped back to throw, which was the lowest in the NFL and the lowest of Brady's career. While the 49ers would definitely be a step up for Brady, it's not like he was playing with a bunch of practice squad guys this year.

When Brady faux retired after last season, he was going out on top. He had stepped out of the car, but elected to jump back in next to Susan Sarandon and fly off the edge of the cliff. Now we all have to do the noble thing and admit to Max Kellerman that we were wrong. Do we get him an "I'm sorry for making fun of your sports take that was ultimately correct" cake? Would a thoughtful text suffice? Either way, this changes nothing about his "I want Iguodala" take. We can still make fun of him for that one.