Since Greg Oden apologized to the world for the cellphone dong shots, many sports columnists have had to suffer through actually writing about it. There were plenty of cautious, you-have-to-be-careful-these-days, newsy approaches. Others, chose to focus on their own shortcomings.
Here's a rundown of people who've had to suffer the indignity of realizing their penises are mere thimbles compared to Oden's exceptional black mamba.
* Sean Pendergrast, Houston Press: "It can't be done. Trust me, I don't care who the next guy is, if you choose to follow The Oden (and yes, that beast at the base of his abdomen is now being referred to as a proper noun), your lady will be filing her nails during sex asking if you're done yet."
* Jason Whitlock, Fox Sports: "The Oden pictures raise doubts about the legitimacy of the motion-in-the-ocean theory and the sincerity of women who claim there can be 'too much of a good thang.' "
G/O Media may get a commission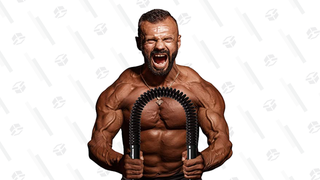 10% off
Zenooze Boa Power Twister
* Steve Cofield, Cagewriter: "That's yours truly pictured with Oden during the Warren Moon Charity Bowling outing last summer in Las Vegas. And I thought I felt small that day. At least I have bigger hair. "
* The Faster Times, Mason Lerner: "If SportsChat had a piece like that, its photo would likely replace the rather smarmy looking head shot at the top of this blog"
* L.Z. Granderson, ESPN: "The only thing more ridiculous than Oden's apologizing for taking the pictures are the folks who felt he needed to. As far as I can tell, he has nothing to apologize for — and no, that isn't a thinly veiled size joke." (Ed. Note: Yes it is!)
* Elizabeth Snead, Zap2It: "Don't even think about taking your own photo to see how you measure up, dudes. Not unless you have a lifelong 'script for Lexapro." (Ed. note: No, I don't believe Elizabeth is a man.)
Thanks to reader, Chandler for the Snuffyshop.