Every group has one. The loyal one. The guy who does the dirty shit. The guy who takes the blame. The guy who keeps taking it and taking it and coming back for more because, to the loyal one, it makes sense to suffer and have money than break away and go broke.
For Alex Rodriguez, the loyal one is his cousin, Yuri Sucart.
Sucart was arrested last week and charged with six counts of illegally supplying testosterone, according to the Miami New Times, the latest step in the long and consuming Biogenesis drama. He's still in custody and his family is pleading for help posting his bail.
"My dad's a very sick man," Ashley Sucart writes in the online campaign to raise money for his defense. "Although he has only 35 percent of his heart working, I've never met someone so giving and loving. Anyone who knows my dad can vouch and say he's always had good intentions in everything he's done ..."
Sucart didn't plan for things to end this way. Nobody does. New Times lays out Sucart's fascinating and sad story today and—like so many loyal guys—his journey begins with an unfortunate arrest. Sucart was arrested by New York police in 1993 for selling crack. Sucart swore the cops had the wrong guy, and another crack dealer told reporters Tim Elfrink and Gus Garcia-Roberts that Sucart's only crime was "looking like the real 'Boss Man.'" Still, Sucart was found guilty, making him a convicted felon with what New Times called a "dubious immigration status." Suddenly, he became the ideal candidate to be a very loyal guy for A-Rod.
And for years, he was. New Times says Sucart traveled with his cousin, setting up hotel rooms and arranging private travel. And, because this is a South Florida story, it also has to involved bad real estate investments.
As A-Rod's star had risen with the Yankees, his older cousin had bought up real estate in South Florida. But he'd lost heavily in the post-recession bubble. By 2008, three properties owned by Sucart were in foreclosure with mortgages totaling more than $1 million.
G/O Media may get a commission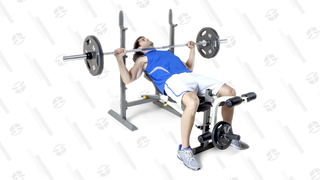 10% Off
Marcy Folding Weight Bench
Then, in 2009, came the story that Rodriguez had failed an anonymous drug test in 2003. A-Rod pointed the finger at Sucart.
A-Rod called the drug he took "boli" and told the world Sucart had ferried it up from the Dominican Republic. The news sparked a firestorm, and Sucart roasted in the tabloid flames. Reporters stalked his Kendall home. MLB officials grilled A-Rod and quickly banned Sucart from all clubhouses.
But Sucart stayed true to A-Rod. He never gave an interview. He still traveled with his cousin, who gave him a raise from $60,000 to $100,000 a year. He introduced A-Rod to Tony Bosch. Sucart's loyalty would not be rewarded.
Then in May 2011, tabloid reporters spotted Sucart in the team hotel during a road trip to San Francisco. The bad press riled A-Rod, who promised, "I'm handling it." When A-Rod got wind of his cousin's recruiting activities for Bosch, said a source quoted in Blood Sport, he was even angrier; he began to feel his cousin was mismanaging his money as well. "Alex didn't feel like he could trust the guy," a source said.
A-Rod fired him and, untethered from his famous cousin, Sucart's life began a long descent. He filed for bankruptcy. He sold off a 2009 Yankees championship ring for money. His lawyer said he was considering suing A-Rod, but he never did.
And where before it was just A-Rod pointing to Sucart, now Bosch is doing the same.
In a sworn statement entered into his federal case on Friday, Bosch has told prosecutors that a "majority" of the pro athletes he treated were recruited by Sucart and another co-defendant. What's more, Bosch says Sucart was his partner in a company called Scores Sports Management, which would haul syringes of testosterone to the Dominican Republic to youth baseball farms with prospects between 12-17 years old. The kids would be doped up before a June draft with big signing bonuses on the line.
Sucart still has never given an A-Rod interview.
That's always how the story ends for the loyal ones. They never realize, until it's too late, that the loyalty ran one way.
Image via Miami New Times