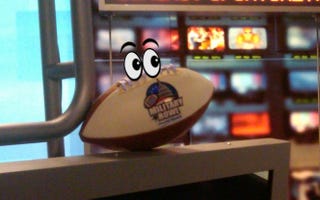 Let me tell you about the worst football game I've ever been to: it was Temple vs UCLA at RFK Stadium, in the 2009 EagleBank Bowl (the forerunner to the Military Bowl). It was well below freezing, it was windy, the stadium was empty, there were rats in the bathroom, my team lost, and I actually paid American currency to watch Temple football. All of which is to say, a football with cartoon eyes added in post-production is probably the perfect mascot for the Military Bowl.
Dan Steinberg introduces us to Sgt. Stripes, though it remains unclear which branch of the armed services he belongs to, and how he achieved promotion without any visible means of locomotion or cognition. It appears that the googly eyed noncom's presence will be limited to the internet, seeing as how his disembodied eyebrows will be impossible to pull off due for various physics and anatomy reasons. The sergeant is already on Twitter, and threatens to make frequent appearances in your nightmares and Facebook video updates in the run-up to this year's inevitable NC State-Central Florida bowl matchup.
So, everyone salute Sgt. Stripes, or he'll find out where you live.
The Military Bowl has a mascot thing [DC Sports Bog]