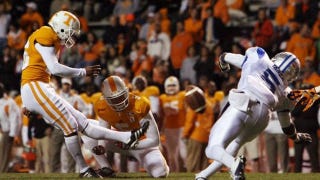 SEC football's a big thing, but the Tennessee Volunteers really aren't. (Opportunity is nowhere, and all of that.) And the Vols especially aren't a big thing when they're playing out-of-conference, like they were last Saturday, against the Middle Tennessee State Blue Raiders. Tennessee won, but only after averting a brief scare in the kicking game.
Listen up to NPR's Mike Pesca, in our weekly excerpt from Slate's sports podcast, Hang Up and Listen:

You can listen to the full podcast here or subscribe on iTunes.