Throughout the coverage of the NFL's handling of Ray Rice, talk of the league's investigatory arm has for the most part presumed a certain level of competence. The NFL employs a number of former law enforcement agents, and has billions of dollars besides—it's got to be capable of getting any information it so desires, which would make a failure to do so seem willful, right? Well, it's complicated.
Robert Mueller's report is a strange document in a lot of ways, following its own hazy logic into a conclusion that the NFL's best course of action is to mobilize itself into a fascist nation-state. But by a funny quirk of bureaucracy, the series of events that precipitated the NFL's apparent need for its own secret police all run through one man—a private investigator in New Jersey named James Buckley—and his laudably American tendency to half-ass all of his work. The real story behind the NFL's investigation, as it's told in the report, is of one man unwittingly putting the brakes on the league's super-judiciary power creep.
The story is almost too good to be real—so good as to make you stop to wonder how it can possibly be true given the stories about how ridiculously hands-on Roger Goodell is. (This is a man whose executives are too scared to eat a fucking slice of pizza without him having grabbed one first.) As we walk through Mueller's fact-finding, the most striking thing about the report is what's not here. In the entire 96-page report, in which Mueller brags openly about his team's access to the email and hard drives of Goodell and NFL head of security Jeff Miller, there isn't a single email or other correspondence from Goodell. He's a totally unaccounted-for actor throughout the investigation, and we're asked to believe that he spent that time anxiously awaiting word from his investigator, who is described to have been, essentially, hitting refresh on his web browser. Read a certain way, the Mueller report is a fascinating look into a fundamental bureaucratic breakdown—or into the darker arts of calculated institutional negligence.
February: NFL alerted to Rice
The first time we meet James Buckley is in February, on the day after the league first learns that Rice had been arrested. Having sent around a link to the InsideHoops.com message board, Jeff Miller, head of NFL security, contacts John Raucci, director of investigation services at the NFL, and Mario Di Fonzo, the security representative assigned to the Ravens' area. They assign the case to Buckley, a 30-year veteran of the Paterson police department who'd also worked with the DEA in New Jersey, and who has done security with the NFL since 1999.
(Throughout this article, emphasis in blockquotes is ours.)
On Monday, February 17, Senior Labor Relations Counsel for the League emailed Raucci, asking, "Did you see the reports of Ray Rice's eventful weekend in Atlantic City?" Raucci responded a few minutes later: "Yes. It is an Internet feeding frenzy. He either punched a female acquaintance or knocked out, with one-single punch to the head, his fiancé. We have [James Buckley] collecting the reports."

Although Di Fonzo had filed the initial SARAX [the league's case management system] report, by February 19, James Buckley—the Security Representative for the New York Giants/New Jersey area—took the lead investigative role. Because the Rice assault had occurred in New Jersey, the League's policy assigned the lead role to Buckley, who had geographic responsibility for that area.

In 1999, the League hired Buckley as the New York Giants Security Representative. Buckley is a licensed private detective in New Jersey and a former police officer in Paterson, New Jersey. After retiring from the Paterson Police Department as the Chief of Detectives, Buckley served as an Advisor to the Special Agent in Charge of the New Jersey Division of the Drug Enforcement Administration. He reported to us that he does not have substantial familiarity with or connection to Atlantic City law-enforcement officials and that in another matter he had difficulty with those officials sharing information.
G/O Media may get a commission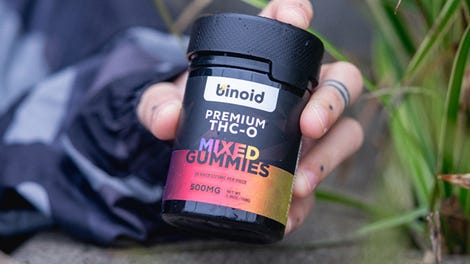 25% Off + Free Shipping
Binoid THC-O Gummies
It's clear from the report's summary that the league's knowledge of the events for the first several days consisted mainly what it read through internet reports, presumably gathered by Buckley here.
On Feb. 19, two days after he was noted to be assigned to the case, Buckley called the Atlantic City Police Department to ask for the arrest report and other details about Rice's case. He was given a flat no on two separate calls, including by records division supervisor Ava Davenport. Here's how she stonewalled him:
When Buckley inquired whether an Open Public Records Act ("OPRA") request would be a proper vehicle for obtaining the materials, Davenport informed him that everything in the police report would be redacted before he received it. Davenport referred him to the Atlantic City Solicitor's Office for further inquiries or information. Buckley called the Atlantic City Solicitor a few days later and left a voicemail message—a message that was not returned.
Buckley did not bother to file the OPRA request to force the issue—we have records showing that he didn't—and would not follow up with the solicitor's office until months later, after all the drama had played out.
Buckley did, however, watch the TMZ video of Rice dragging his fiancé out of the elevator. After a section detailing the process that TMZ went through to determine where the leak came from—because the tape had audio and visibly shook, it was determined to have come from a cell phone, since the elevator cameras were in a fixed position and had no microphone—Mueller then details how Buckley talked about the tape with a confidential source ... who hadn't watched it:
Buckley Communicates With A Confidential Source

After watching the TMZ video, Buckley communicated with a confidential source to obtain further information about the Rice incident. According to Buckley's SARAX report, "[t]o [the source's] knowledge, an altercation between RICE and his fiance initially took place inside an elevator cab at Revel Casino wherein RICE was initially assaulted by his fiance who slapped him in the face and in turn, RICE allegedly struck her (unknown whether a slap or closed fist)." Buckley told us that his confidential source was not a member of ACPD and had no direct access to the in-elevator video and that Buckley has no reason to believe that the source ever saw the in-elevator footage before it became public.
Let's unpack this "confidential source" a little bit. Buckley, having seen the video from TMZ, gets in touch with a confidential source. The source's actual identity isn't quite as interesting as who we can assume it's not. Buckley doesn't have much reason to lie in his official report to the league, so let's assume that it wasn't a member of the ACPD. We know that the tape was almost immediately passed around the Revel's staff, so it likely wasn't someone from the hotel. Nor was it Rice's lawyer, Michael Diamondstein, who would engage with the Revel's general counsel on Feb. 20 when he made his first request for the tape but would have little reason to cooperate with the league's investigation, or Ravens director of security Darren Sanders, who (as we'll see) ran a comically more efficient investigation, and had already requested the video some days prior to its release by TMZ. This leaves who, exactly? And with what possibly relevant information if they had no access to even the exterior tape? Friends of friends from the force, who heard from a guy who heard from a guy? That the version of events washes with what had already been disseminated by multiple outlets hardly clears this up.
Obviously, this wasn't very helpful for the league. The next day, Buckley's boss got back in his ear:
Raucci Asks Buckley For More Details

On February 20, Raucci emailed Buckley, asking, "Is it possible to collect some details and facts regarding the incident? Police Reports—? The public reporting and 'press accounts' are crushing us, and [Miller] needs to brief [Pash]." Buckley responded that, "[a]s per my contact with ACPD[,] we cannot obtain even through OPRA request the investigative report. In addition, this matter is under investigation and nothing is being released."
Technically, this is the information that was given to him, though Buckley never filed the OPRA request to test the waters. But consider the context. Places like the NFL hire ex-cops under the presumption that, in looking into matters precisely like this, they will be able to tap their old buddies on the shoulder and call in a favor or two—get some of the report read back to them over the phone, or have some information "accidentally" forwarded to them. It's a special sort of telling that Buckley wasn't just not getting any of this, but doesn't appear to have even been sniffing it.
But that's less embarrassing than the next step, which ends up explaining how (in this version of events at least), the NFL was the only interested party not to acquire the in-elevator tape:
In response, Raucci stated: "Ok – we were hoping for some 'non-attribution' info to work off of. … I'm figuring the elevator has one CCTV loop and the elevator area (outside of the doors) has another. What I believe the interest is [to] understand the various press accounts: mutual pushing and shoving VS. cold-cocks her and knocks her unconscious. Between us – DV is DV and if the Commissioner is going to come down hard on the guy he should do so; I don't care who started the incident."

Buckley volunteered that he "can contact Revel security to confirm" whether there is an in-elevator camera. Raucci responded by email that same day: "I have never heard of a Casino not having elevator - interior cameras. Separate and apart we have heard from a source, with no attribution, the interior camera shows RR striking his fiancé, more than once, above the shoulders, after she knocked off his hat." Raucci informed us that he did not recall this email and did not himself have a source reporting about the incident. The reference to a source may be to the write-up by Wilson sent to the League on February 16.

Buckley did not, in fact, contact the Revel about the in-elevator video, believing that the Revel would have provided the original video to the police department and retained no copies. Instead, he asked his confidential source to investigate. The confidential source reported that the elevators at the Revel did have cameras inside the elevator cabs.
James! You didn't even call!? Come on, man! Is there a chance that this is an elaborate plant on the part of the NFL to exculpate itself from having seen the tape? Sure, it's possible. But before jumping on that wagon, check out this next paragraph:
Buckley's Investigative Efforts In March Through May

The League's investigation of the Rice incident between March and May consisted of Buckley monitoring developments in the ongoing criminal proceeding against Rice by reviewing public news articles. He did not perform any additional investigative steps, nor was he instructed by the League to seek additional information.
COME ON, THAT'S JUST READING THE INTERNET!!! SHIT! But that's skipping ahead a little bit, and the progress in other camps over the next few weeks is an incredible contrast.
Late February to March: The NFL falls behind
Clearly, the NFL's investigation was not going well. Not only did Buckley seem to be at least a week behind the concurrent investigations being run by the Ravens and Rice's lawyers, but he and Raucci were exchanging emails that contained, in this telling, outright lies (Buckley saying that he would follow up; Raucci that he had a source on the matter).
It would take a week and a half for Buckley to even confirm that the video existed, and he seems to have only bothered to go that far after being prodded by Raucci and Miller. His report included, among other things, a picture of the camera in the elevator—a basic detail that could have been cleared up in the first hours of investigation.
The League Confirms An In-Elevator Camera Exists And Learns Of Additional Rumors

Based on information from his confidential source on February 27, Buckley emailed Raucci and Di Fonzo a photo of a camera in an elevator at the Revel. Buckley explained that"[t]he photo depicts elevator cab camera (s) which are in cabs at revel [sic] casino meaning whatever happened inside the elevator cab between Rice and his fiancé should have been recorded and that casino and [Law-Enforcement Authorities] have reviewed same." Raucci responded: "I agree. [Miller] spoke to someone last week and they so much [as] confirmed your inference. Assuming his source was fully forthcoming, he (source) claimed the interior 'cab' video had not been fully reviewed or processed by local authorities."

Miller told us that he did not have a confidential source that Raucci referenced in the email. Both Miller and Raucci told us that the reference in the email is likely to Miller's meeting the previous week with NJSP officials. Apart from the issue of Miller's source, the email exchange shows that, at least by February 27, the League knew there were in-elevator cameras at the Revel and had reason to believe a video of the Rice incident from inside the elevator existed.
In contrast, Rice's lawyer Diamondstein had filed a subpoena to get the interior video a week earlier, and been denied by the Revel due to a request by the Atlantic County prosecutor. Sanders got a little further for the Ravens, having convinced Lt. Rodney Ruark of the ACPD to describe the contents of the tape to him. His notes, dated Feb. 25:
Shows Ray walking away from Janay from restaurant ahead of her by 30 yards, her following. Both are seen arguing in hallway. Janay appears to spit on Ray and to slap him. Ray pushes her away and walks away. Argue at elevators, Ray appears to spit on her, she elbows him, then spits on him. She walks away and then reappears, slapping at him. She enters elevators first with him behind her. He slaps/punches her, she spits on him and punches at him, he slaps/punches her again causing her to fall striking her head against the wall, going 'unconscious.' He stands over her for a brief moment then tries to drag her off the elevator.
This is an accurate enough account of the video, though Ruark added that he couldn't be sure how drunk Janay actually was, and if that contributed to her falling. According to the report, he didn't inform Ravens GM Ozzie Newsome and John Harbaugh until March 10 or 11, by which time Sanders's description had evolved to get Ozzie's notes reading like this:
"She elbow him starting throwing/Punches after she spit on/him he slap her she sailed/backward – more intoxication/than the hit."
So the Ravens got at least a description of the video, even if this version of the story has them fucking it up once they had it.
Meanwhile, Rice's lawyers spent March continuing to press the Revel for a copy of the tape. The Revel had been asked to withhold it until after Rice's indictment, which came down March 27, and would give him a copy on April 1. Diamondstein would receive a second copy from the official discovery materials, which arrived in early April, meaning that by this point he had acquired the video twice while Buckley still hadn't gotten around to asking for it. He spent the next few months, we're told, reading news items.
May: Rice enters pre-trial intervention program
The next we hear from Buckley, it's May, and Rice's hearing has come and gone. On May 1, Rice pleads not guilty and applies for a PTI program. Here's how Buckley handled it:
The next day, Buckley filed a report in SARAX. Based on a news report, Buckley explained that Rice had pleaded not guilty; that he applied for the PTI program; and that the prosecutors will decide whether Rice is allowed to enter the program. The SARAX report also noted that, "[r]eportedly, the AC Prosecutors Office has more video than what appeared through the media/website but the ACPO would not provide what the video shows."
On May 20, the prosecutor's office approved the PTI terms. Here again is Buckley's official report to the NFL:
The following day, Buckley filed a SARAX report. The report noted that, according to a news report, Rice "received initial approval to enter a court program that could result in dismissal of an assault charge against him." Buckley added that he "will attempt to confirm this information as well as identifying the source and the actual court program mentioned."
A few days later on May 24, Jeff Miller, head of NFL security, emails Raucci to tell him that now that the case is out of court, it should be easier to get information out of the police, even if the ACPD are traditionally unaccommodating. Among other concerns, Miller tells Raucci, "[I]t's important that we establish factually what occurred inside the elevator … [I]f the lead detective would be willing to talk to us, he can hopefully definitively describe whether Rice struck her and if so, how many times in what manner." This sort of account, remember, was provided to the Ravens as early as Feb. 25, and the Revel was cleared by the prosecutor's office to release the video itself to concerned parties on April 2, and the Ravens were aware that Diamondstein had copies.
So with renewed confidence, Raucci tells Buckley to get back on the case:
That same morning, Raucci asked Buckley to reach out to the police detective involved in responding to the Rice incident to ask about the possibility of an interview. Specifically, Raucci asked that Buckley, when he returned from a trip, "please see if the police detective or someone would submit to an interview regarding the circumstances which actually took place in the elevator (ie, behind closed doors)." Buckley responded to Raucci that evening: "Will do, John although I doubt we will get the cooperation but will give it a good try."
More than a week later, on Jun 3, Buckley puts in a call to the Atlantic City solicitor's office to ask about which officers were involved in the case. ("No one called Buckley back.") Buckley takes a few days to decide what to do next, but:
Three days later, Buckley called the Atlantic County Superior Court and spoke with the PTI Director. She advised Buckley that the police reports were confidential, but agreed to provide him with a copy of the indictment and PTI order.
Buckley, maybe thinking he picked up on a wink from the director, decides to file a far broader records request:
Buckley then faxed a records request. The cover letter explained that he wanted "copies of the Indictment and the Pre-trial Intervention (PTI) order as it pertains to … Ray Rice." The records request itself sought the "Arrest report from Atlantic City P.D. regarding Subject's arrest … at Revel Casino for aggravated assault; victim identified as Janay Palmer, Subject's reported fiancee. Disposition of matter and any documentation available regarding a diversion program that Subject may have been admitted into by the Court." That same day, the PTI Director faxed Buckley a copy of the indictment and PTI order
Our man Buckley got mushed, basically.
Afterword
From here, the Mueller report kicks into fast forward, running through the league's June meeting with Rice, the July and September disciplinary actions, and the eventual release of the full video by TMZ. Apart from a message from Miller to Raucci saying, "Wish we could have gotten that in advance," and the NFL's general counsel saying he was pretty sure Goodell only saw the video of Rice dragging Janay out of the elevator, no further emails are produced from this point on.
We don't know what happened to Buckley from here on out. He isn't mentioned in the report any further, and we don't know if he was retained by the NFL for further work on the case. We just know that, in the capacity in which he was asked to operate, his investigation was an abject failure on every level.
Perhaps Buckley is just wildly incompetent, and truly did fuck up the NFL's earnest (and ridiculous) blood frenzy for the facts of the case, necessary so it could best enforce its harsh judgement. But it would take a more prosecutorial investigation on the part of Mueller and his team to say with any certainty if that is really the case, or if Buckley conveniently forgetting the tricks of his trade at these exact moments was in concert with a broader desire not to find anything, or if he really was a moron, but a useful one put on the case by someone who would prefer a moron handle it. In the results column, these all amount to the same thing. But for anyone reading this report finely, trying to divine some motive out of the Kremlin, this was the only question worth considering in the first place.
Image via Getty