Here's Kenyan steeplechaser Ezekiel Kemboi after winning that 3,000-meter barrier-and-pond race at the Track and Field World Championships in Beijing. This was his seventh gold or silver World Championship performance. He's got two Olympic golds at home in the drawer, stacks of others too, and, wonder on top of wonders, he's been accruing this hardware since 2003. Twelve years of being king of the hill in the withering seven-lap event is remarkable in and of itself, and especially impressive when you consider the ghastly competition among Kenyans in this, their event, the one they own.

Kenyans, or Kenyan-born athletes, have won 30 of the last 36 World Championship medals in the steeple, and that's not counting the Olympic medals and Diamond League podium spots. Kemboi has had to bring his best, year after year, just to make the Kenyan team, and for this, the small, skeletal man is the widely acknowledged Greatest Of All Time.

Let's take a look at the world's slightest badass, who routinely decimates his competitors with unanswerable acceleration over the last 200 meters, then serves it to them, grinding his skinny hips as they're on hands and knees, dry heaving.

Kemboi is an excellent winner. He is not modest, and doesn't waste his moment in the spotlight with mush-mouthed munificence. His public expects something fancy, and the bandy-legged steepler delivers with signature moves that he's dubbed the Emily Chepchumba.
Here's an Olympic gold medal celebration that would have Roger Goodell laying down a seven-figure fine ...
... and my personal favorite, which has a countryman commenting that "though his waist may not be flexible enough for crisp movements," this trademark dance never misses:

Before there was dancing, though, there was running. Kemboi's minute-by-minute biography on the IAAF website states that he is the third of seven children of farming parents, and that he didn't run while in secondary school. Instead, his interests were in soccer, music (he was a popular DJ), drama, and debate, most of which have continued to serve in his present enterprise.
G/O Media may get a commission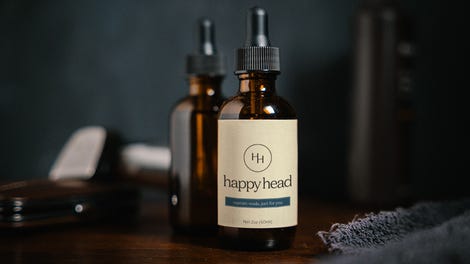 In parts of Kenya, entering races counts as entertainment, something to do on the weekend. Kemboi had immediate success in the steeplechase at a local competition, and within two years, he had raced in Europe and lowered his personal best to a world class 8:06.65.

The race that cemented his popularity in Kenya and launched his career as the statesman of the steeple, though, was the 2003 World Championships, in Paris. Discouraged by the intense competition for limited spots on Kenyan national teams, top-ranked steepler Stephen Cherono took up Qatar's lucrative offer to join their newly-purchased track team, changing his name to Saif Saeed Shaheen. The defection called for harsh reprisal, and Kemboi was to be the messenger. This was not a race for time or pieces of metal; it was a duel for honor, for national pride.

Kemboi, who had never beaten his former teammate, put on one of the most wrenching athletics displays ever. From the gun, the two were at breakneck pace. They thrashed, strained, reeled in and fell back, stumbling on flayed legs, oblivious to other competitors.

Kemboi lost by .01 second. No dancing there; he stood on the sidelines holding a limp Kenyan flag, as the beaming victor posed for cameras, swathed in the colors of Qatar.

The defeat lit a fire in Kemboi though, ignited by the new PB, 8:02, the battle precipitated. He was a man on a mission.

The steeplechase is seven laps of a track with five 36" high hard barriers on each lap, including one with a sloping water pit on the far side. In addition to carrying on at top speed for almost two miles, runners must get over a waist-high, header-inducing, shin-bending 4 x 4 that does not fall over when hit (like a hurdle) 35 times during the course of the race, seven of those jumps landing lower than the takeoff point. On an angled surface. In water. Seems easy enough at the outset, but complications arise.

For one thing, there are the up to 20 other people in the race. All start together and, like in any distance race, stick toward the inside lane to avoid running further than necessary. Imagine you're galloping along near your redline, hemmed in on all sides by competitors wielding elbows and lethal spiked shoes. All you can see is backs and bobbing heads. There is pushing and shoving and, wouldn't you know it, the dude in front of you has an insanely high back kick, such that your knee often gets in the way of his spikes. But what's this? You're just getting into a rhythm when Sir Kickalot in front of you pops up like a jack-in-the-box revealing, for the first time, what's dead ahead. It's high and it's hard and it's coming at your delicates at speed. You and your immediate neighbors best make your next step a leap, and a frisky one at that. This is the choreography of disaster. Even if you don't go down by your own error, it's easy to get tangled up with others' desperate attempts to clear the cudgel.

Any way over the barrier is fine; there are no points awarded for style. Stepping on top briefly uses less energy and is usually safer (though sometimes spikes snag on the barrier, and down you go) but it's a little slower. Hurdling clear over is faster but requires more energy and a more orchestrated takeoff, rather than some half-assed last-minute contortion. As fatigue increases, it becomes harder to execute a leap of the necessary precision and magnitude. Judgment falters. The steeple demands enormous strength, endurance, speed and agility. Failure in any of those areas can have drastic consequences well beyond merely slowing down. If a steeplechase has been run in which someone didn't splatter vividly on the track, I don't know of it.
Then there's the water jump. I have climbed atop the water barrier—a hands and knees operation—and peered down at the water pit, 28 inches below the track surface right next to the barrier, sloping upward to track level 12 feet away. It was like I was on a high dive. Landing from that height on an angled surface that's underwater breaks one's running rhythm like nothing else. And almost everyone steps on top of the water barrier because if you step, you can push off the barrier and land further out where the water is shallower. It's easier and faster to slosh out of ankle-deep water than to wade thigh-deep for a few strides.

Trainwreck fans at smaller venues gather near the water jump to get a front-row seat on the head-first dives and grisly five-runner pile-ups that are pretty much guaranteed. The steeple is brutal and gory.

Kemboi, and many of his countrymen, hurdle all 35 barriers, including the water jump. Let's think about that. Pelting around the track at a pace of just over 4 minutes per mile, he has enough strength and momentum going to launch an arc that's at least three feet high and probably 12 or 13 feet long, enough coordination to nail the splashdown, and enough body control to avoid tangling with other competitors and, within a stride or two, regain a 4:10 pace. Witness Kemboi and some other blurs flying over the last water jump at the World Championships:
By the seventh lap, most world class humans are doing their best not to explode in a messy salad of internal organs. This is the moment—with about half a lap to go—that Kemboi has been waiting for. Are the other top-notch runners actually going backward? Is there a strange time warp happening on the track? Within two knife-kneed strides, Kemboi has gone from fast to insane, comical, cartoonish. His ability to accelerate off an already fast pace at the dead end of a race is simply unmatched. Here's an example from his most recent go. It's ridiculous, isn't it?
After turning the screws, Kemboi was still able to maintain form over the final water jump and penultimate barrier, and favor his public with yet another key element of the GOAT show. In the final 20 meters or so, he checked over his shoulder to confirm his lead, slowed and drifted into the outside lanes, effectively giving the race away to whoever could come and get it. But no one could. Instead, his devastated rivals stumbled across the line and collapsed to the track, as Kemboi danced—a little bit lewd, a little bit silly, and one hundred percent GOAT.