The figure skating competition is already underway in Sochi, and I have to break the bad news to you: For the first time in years, no American man or woman is expected to seriously vie for an individual gold medal. Which doesn't mean this won't still be the most fascinating, nerve-wracking competition in the games, or that Americans won't end up on the podium.
The U.S.'s golden hopes fall to ice dancers Meryl Davis and Charlie White, reigning world champions–and the team competition, which is making its debut on the Olympic stage, opens up additional, if less prestigious, medal opportunities. But the prospects of even that are fading: After a disappointing performance by Jeremy Abbott in the men's short program, the American team sits in 7th place. And only the top five teams proceed to compete in the final round.
If Olympic expectations for American figure skaters are modest this time around, January's U.S. Championships in Boston nevertheless yielded a few pleasant surprises. As longtime favorites like Ashley Wagner faltered, promising young newcomers like 18-year-old Gracie Gold, 15-year-old Polina Edmunds, and 19-year-old Jason Brown stepped up, hungry for the opportunity to position themselves as the future of the sport.
In the end, America's team for Sochi is a combination of old standbys and rising young stars. Here are the 15 athletes who will skate for the U.S.
G/O Media may get a commission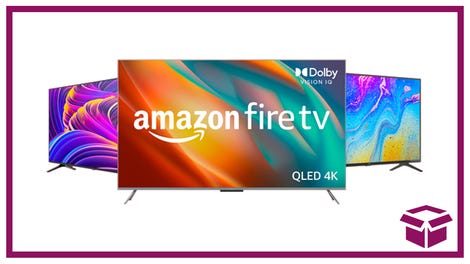 Ooh. stunning.
New Amazon Fire TVs
Women
Gracie Gold
Just a couple of months ago, 18-year-old Gracie Gold was viewed as a talented but erratic wildcard of a figure skater: she had enormous jumps and a natural athletic power, but she was inconsistent and tended to crack under pressure; you never quite knew what you were in for when she stepped out on the ice. Just five months ago, during her free skate at the U.S. International Classic, Gold botched four jumps in a row, decimating her lead and dropping her down to second place.
But after a few months training with the veteran coach Frank Carroll–who trained Michelle Kwan and Evan Lysacek, among others–Gold is looking confident and disciplined like never before. She skated two focused, energetic, and nearly clean performances in Boston, claimed her first U.S. Championship, and is now heading to Sochi as America's newly crowned ice princess–a role that, given her name, her studied composure, and her penchant for power blazers, suits her just fine. Gold isn't a gold medal favorite for the ladies singles competition, but she could certainly sneak onto the podium if she knocks out two perfect programs.
Ashley Wagner
Wagner has long been a media darling of the U.S. skating community, and she went into Nationals this year as two-time reigning champion, ready to walk away with a third title and a ticket to the Olympics. But her poor showing at the competition–she fell twice in the long program and ultimately placed fourth–nearly cost her the spot she'd been working for since 2010, when she just missed making the Olympic team.
Ahead of Sochi, Wagner changed up her free skate, swapping the music and retooling her choreography, but the real question mark surrounding her performance has to do with the triple-triple combination jumps that are de rigueur among elite skaters–and which have consistently proven problematic for Wagner. (At Nationals this year, she missed planned triple-triples in both the short program and the free skate.)
Wagner has a lot of what it takes to be a U.S. figure skating star: She's got personality, grace, and a fighter's mentality, but none of that will get her anywhere in Sochi if her triple-triples aren't up to par. The new scoring system, which allots point values for just about every element imaginable, simply doesn't make room for skaters who lack the technical chops.
Polina Edmunds
If anyone upset expectations at Nationals this year, it was Polina Edmunds. Just 15 years old, the competition was her debut on the senior level, and she was so unfazed by the pressure as to walk away with the silver medal. Edmunds' coaches have likened her to Tara Lipinski, and there's some truth to the comparison. She's the same age Lipinski was when she took home the gold in Nagano, her programs are loaded up with as much difficulty as nearly anyone else's, and so far she's shown the unshakable confidence of someone who is too young to know better. While she's not considered a serious contender for the medal stand this time around, Edmunds has already displayed her flair for sneaking up on the competition. Regardless, expect her to be a major presence on the international scene in the coming years.
The competition
Defending Olympic champion Yuna Kim of South Korea is the one to beat in Sochi this year, and any skater on the planet would be hard-pressed to do so. She's got powerful jumps, incredible technique, an airy elegance, and she is incredibly consistent. If anyone can beat her, however, it might be Japan's Mao Asada, Kim's longtime rival and 2010 Olympic silver medalist. Elegant and strong, Asada is currently the only woman in the world competing with a triple axel. That said, she hasn't hasn't been landing that jump consistently lately, and she lost to Kim in 2010 even with it. 2012 world champion and five-time European champion Carolina Kostner is another contender, an artistic skater with tons of speed, but she's also recovering from a recent back injury and finished third at the 2014 European Championships. Meanwhile, Russian phenoms Julia Lipnitskaia, a 15-year old with almost machine-like consistency, and Adelina Sotnikova, at 17 a great jumper for any age, have been nipping at Kostner's heels all year. (They finished first and second, respectively, at the European Championships.) They too, have a shot at the podium.
Men
Jeremy Abbott
The four-time U.S. champion is making his second trip to the Olympics and, at 28 years old, it'll probably also be his last. The Michigan native's hoping to make up for a disappointing ninth-place finish in Vancouver, but it won't be easy. Abbott has been all over the map competitively for the last couple years, and nerves have historically been a big problem for him. Case in point: He bombed his short program performance at today's team event, falling on his quad toe loop, bailing on the combination jump that should have followed, and then singling his triple axel. Abbott's incredibly expressive and mature on the ice, and he's got some of the most intricate and unique choreography in the competition, but consistency is going to be a problem for him. He'll have to really pull out all the stops–and land that quad–to have any chance at a medal in Sochi.
Jason Brown
Brown is a 19-year-old bundle of exuberance. He is such a wonderfully charismatic and lovable performer that video from his 2014 Nationals free skate–a five-minute long men's figure skating program to music from Riverdance, mind you–went viral. Compared to the other men in the field, Brown doesn't have them most difficult program, and he could definitely use a quad or three, but he's a unique and powerful skater, and his transition elements are refreshingly creative (check out those Riverdance-inspired footwork sequences). Among the men, his ability to connect with his audience is rivaled only by Russian superstar skater Yevgeny Plushenko. Will this be enough to get Brown an individual medal in Sochi? Probably not. But he's a young guy with a lot of potential, so don't count him out for these games or next.
The competition
Watch out for Russia's Yevgeny Plushenko, a three-time Olympic medalist who's been out with injury for much of the season and only recently opted to compete in the games. But his first performance at the team event was solid–he nailed his quad and finished in second place–and he's got huge support from the home crowd. And don't forget three-time world champion Patrick Chan of Canada, a powerful, consistent skater and longtime judges' favorite, or Japan's Yuzuru Hanyu, who has enormous jumps and a cool, effortless style on the ice.
Pairs
Marissa Castelli and Simon Shnapir
Castelli, 23, and Shnapir, 26, aren't strong medal contenders in Sochi, but they're the best pairs team America's got right now. The reigning national champions, these two are powerful and compelling skaters when they're on top of their game. They have fantastic height on their lifts and throw jumps–they've been known to attempt a throw quadruple Salchow in competition–and they perform difficult, interesting transition elements. But they have a lot of ground to make up on the international stage. Their choreography isn't quite as sophisticated as, say, gold medal favorites Tatiana Volosozhar and Maxim Trankov, and they have some consistency issues when it comes to landing those powerful jumps and skating with the synchronicity elite pairs skating demands.
Felicia Zhang and Nathan Bartholomay
Zhang, 20, and Bartholomay, 24, head to Sochi with little real chance of finding a place on the podium. Still, they proved their competitive mettle this year when they won silver at Nationals and beat out 2012 U.S. champions John Coughlin and Caydee Denney for the last spot on the Olympic team. While Zhang and Bartholomay skate together with an easy elegance, they've only been partners for three years, and their programs lack the originality and power of most of the top couples.
The competition
The top two pairs favorites are Russia's Tatiana Volosozhar and Maxim Trankov, who are incredibly graceful and get tons of air on their throw jumps, and Germany's Aliona Savchenko and Robin Szolkowy, who are known for their innovative choreography and gutsy style. Canada's Meagan Duhamel and Eric Radford, who nailed side-by-side triple lutzes in their team short program, could also be contenders.
DANCE
Meryl Davis and Charlie White
If any two American figure skaters are expected to walk away with medals this year, it's Davis, 27, and White, 26. These two lost out on the gold in Vancouver to Canada's Tessa Virtue and Scott Moir, their longtime rivals and training partners–also reality television co-stars(!)—and now they're back for blood. Davis and White, who haven't lost a competition since 2012, have been skating as a pair for so long that they look like two halves of the same marionette. They're swift, light, and graceful on the ice, they swizzle in perfect harmony, and the height and ease of their lifts–including the gorgeous and very difficult "curve" lift–is incredible.
Madison Chock and Evan Bates
Madison Chock, 21, and Evan Bates, 24, are incredibly graceful and talented ice dancers. They're two-time silver medalists at U.S. Nationals (second to Davis and White, of course), and they're top 10 contenders in Sochi. Unfortunately for them, this year, as with the last several years in this sport, the main focus will be on Davis and White vs. Virtue and Moir.
Maia Shibutani and Alex Shibutani
If you are an active participant of the online figure skating community (in which case, God rest your soul), then you already know that Maia(19) and Alex(22) are a social media-friendly brother-sister team known on the internet as the "Shib sibs." We will forgive them for this cutesy nickname, however, because they offer up a certain lighthearted energy to a sport that can sometimes feel a tiny bit stodgy. This year, for instance, their free dance is to a Michael Jackson medley choreographed by one of MJ's own former choreographers, Travis Payne. The Shibutanis, like Chock and Bates, also have great international standing: Former bronze medalists at Worlds and two-time silver medalists at the U.S. Championships, they tend to select music and choreography that enhance their youthful exuberance–not a bad way to win over a crowd–and could certainly make a run at the bronze.
The competition
Defending gold medalists Tessa Virtue and Scott Moir, Canada's passionate ice dancing superstars, will fight to hold on to their title. The bronze, meanwhile, appears to be up for grabs.
---
Lucy Madison is a NYC-based writer and reporter. Her work has appeared at the Awl, the Hairpin, Interview, CBS News, and more. You can follow her on Twitter here.