So the only winners in the big Comcast Super Bowl porn snafu have to be the Jenna Club and its new inadvertent sex flick superstar, 22-year-old Tristan Kingsley.
Kingsley is the girl featured in the 30-second porn clip that surprised 80,000 Comcast customers in the Tucson area during the Super Bowl on Sunday. The stealth porn attack turned out, in effect, to be the game's most effective Super Bowl ad; and it didn't cost her employer, Jenna Jameson's Jenna Club, a thing. Now Kingsley is basking in the glory — not unlike Santonio Holmes, only sans Mickey Mouse — and can hardly keep up with interview requests. Here's an excerpt of one she did today with Intentional Foul.
IF: What are your thoughts on your new found fame?
TK: Initially, I was shocked when I found out, then very excited. Realizing thousands of people got to see me makes me happy. The increased recognition is also a bonus, as is the publicity, which should lead to more work.
G/O Media may get a commission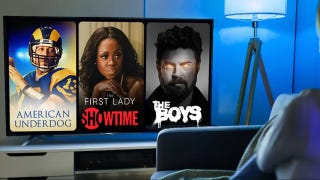 UNDER $1
99¢ Prime Video Channels
IF: Are there plans to capitalize off of Sunday's mishap?
TK: We've discussed making a spoof movie of the Super Bowl.
Here's a short excerpt of an interview she did last year (link NSFW), which I find more interesting, and much funnier.
RAY: Where are you from?
TRISTAN: I'm from northern California. The bay area, San Jose.
RAY: Why did you move to L.A?
TRISTAN: For porn. And a change of pace.
Hey, same as Baron Davis.
Super Bowl Porn: Tristan Kingsley Speaks [Intentional Foul]