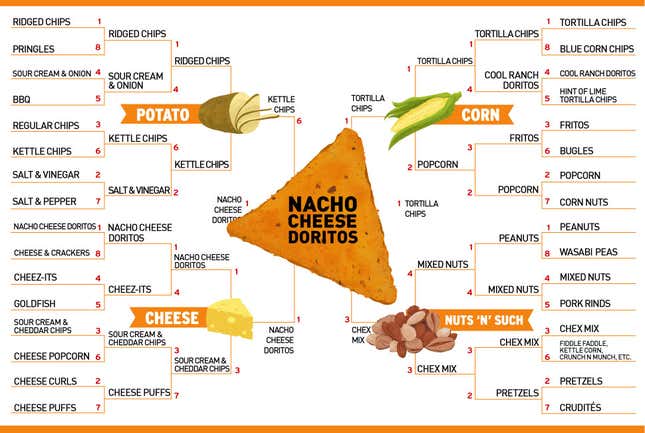 Holy cow bells, what a contest! Voting was neck and neck virtually throughout the entire Finals of our Ultimate Super Bowl Snack Playoffs, with Nacho Cheese Doritos maintaining only the barest of leads. In the end, the neon orange chips stayed scrappy and took it all, with 107 more votes than tough competitor Tortilla Chips.
The real story here, however, was how freaking mad the Deadspin staff is over what was, admittedly, a terrible final match-up. Or as Albert Burneko succinctly put it, "it's tortilla chips v. fake tortilla chips."
The Deadspin staff, Dear Reader, blames you. (I blame myself.)
Here's more from Burneko:
our readers are bad at snacking

they were bad at dip, too
Barry Petchesky
This tournament has had nothing but garbage results thanks to garbage voters who wouldn't know good snacks from garbage. Thanks for being trash and wrong, everyone.
Tim Marchman:
Deadspin commenters have the worst taste in snacks of any large group of people I've ever heard of.
Greg Howard:
Doritos are bullshit and overrated, but people eat them because they lack imagination and they're motherless.
Anything else, Greg?
And fuck our readers.
Tim Burke:
What Greg said.
Kyle Wagner:
nacho cheese isn't a good flavor, but it's the best doritos flavor (kind of a flaw that doritos have no good flavors, right?) and goes well with mountain dew. nacho cheese doritos are lonely nerd playing a jrpg food. i eat them when i want to punish myself. probably stop doing this to yourselves.
Samer Kalaf:
Art by Tara Jacoby