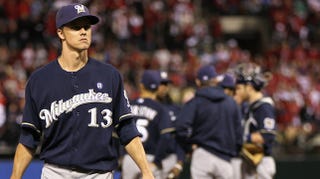 Your roundup of all the hottest hot-stove items of the day (and whatever shit Ken Rosenthal is throwing against the wall.) This is ... HOT FUCKING STOVE!!
• Zach Greinke, who is a year away from free agency, is now without an agent.
• Buster Olney is foaming at the mouth at the possibility of Prince Fielder playing in the middle of the Rangers' lineup. [ESPN Insider]
• Felix Pie, once considered to be the Cubs' superstar of the future, signed a minor league deal with the Indians.
• Ben Francisco was shipped to the Blue Jays in exchange for lefty reliever Frank Gailey.
• Aramis Ramirez signed with the Brewers, immediately doubling Milwaukee's Dominican population.
• John Buck is a hero. Jose Rijo, not so much.
• Ken Rosenthal throws some shit against the wall.