Cole Hamels has angered Mets fans. Once again, emailer Dan, has been deputized Deadspin Mets correspondent for this afternoon.
Hey AJ. Thanks for posting that email and the story. You guys missed another one today about your boy Cole Hamels calling the Mets "choke-artists."
I got it from NJ.com. I don't know who got it first:
When asked whether he felt the New York Mets were choke artists, Hamels had this to say:
"Last year and this year I think we did believe that. Three years
ago we didn't because they smoked everybody, and I think we all
thought they were going to win it all. Unfortunately that didn't
happen. But, yeah, that's kind of what we believed and I think we're
always going to believe that until they prove us wrong."
Prompted by a final question on the subject, Hamels didn't hesitate to say:
"For the past two years they've been choke artists."
That's what they call bulletin board material. Also, does the World Series MVP really need to start shit-talking in December? I got this one from MetsBlog that D-Straw would not be disrespected like that.
G/O Media may get a commission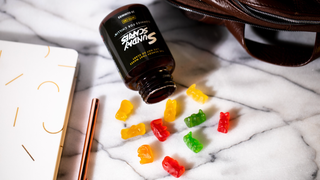 10mg CBD Gummies (22-Count)
Darryl Strawberry, regarding Hamels's quote, while co-hosting today on WFAN's Mike'd Up, said:
"That's sad… If we had a team say that about us – oh, no – they
were gonna be in trouble… I mean, it would definitely be hard if, in
the days us playing, if somebody said that, I mean, we'd have stuck
one right in his neck. We'd be fighting. There's no way any one
would be allowed to disrespect us like that, and that is what has
happened to the Phillies."
Thanks again,
Dan