Every morning, the fine folks at Sports Radio Interviews sift through the a.m. drive-time chatter to bring you the best interviews with coaches, players, and personalities across the sports landscape. Today: World Peace is unlikely to become a GM one day.
Metta World Peace joined The Dan Patrick Show to talk about who he was rooting for during the NBA Finals, whether he expects to be back in Los Angeles this year, what he would do if he was the general manager of the Lakers, if he would like Lamar Odom back in LA and what he would like to do once his NBA career comes to an end.
Who he was rooting for in the Finals:
"Obviously I played with Derek (Fisher). Without Derek I probably wouldn't have a championship ring so I was hoping he could get number six. Then, I'm a big fan of LeBron James except when I play against him but I was hoping LeBron could get one too. I played with Shane Battier so I was going for everybody. (Host: Were you rooting for James Harden?) Yeah definitely. I thought James definitely deserved a ring because he played so well. It was that simple. He played so well but it got to a point where he was moving a little bit too fast out there and they stopped running together. So after that, thought OKC was probably too young."
Whether he expects to be back in Los Angeles this year:
"I don't like to plan that far ahead. (Host: It's only a couple of months.) Yeah but I love my summers and so I try to stay out of basketball business in the summer time. I try to just work out, I like to play basketball and for the most part I don't pay attention to what goes on in the summertime and I think we have a great general manager, Mitch Kupchak is doing a great job, so I don't think I have to worry about anything. (Host: Do you plan on being back with the Lakers?) It's not up to me if I'm back or not. It's up to the thing that's necessary for the Lakers to win titles and it's up to the decision makers."
What he would do if he were general manager of the Lakers:
"Just tell them to play together. That's it. Real simple. We are the best team in the NBA. We don't need no changes. I think we have the best team and even the time when we had Sasha (Vujacic) and Jordan Farmar and Josh Powell I thought we didn't have to make changes and the same thing right now. Obviously everybody is really intrigued to see what up with this Lamar Odom situation but we have the best team in the NBA. We just have to play together on a more consistent basis and we just have to play with some confidence out there so we can help Kobe. You know Kobe is going to play with confidence and I think everyone playing with confidence is going to give Kobe confidence to trust his teammates and things like that."
G/O Media may get a commission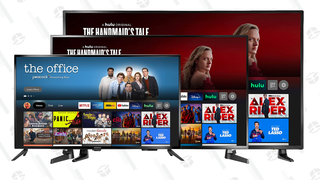 Up to 44% off
Prime Early Access - Insignia Fire TVs
Whether he would like Lamar Odom back with the Lakers:
"I love the team that we have now. I love Troy Murphy, I love Josh (McRoberts), I love Jordan Hill who is amazing. The team we had this year we like. Obviously if Lamar wants to come back that's like my brother so I will always welcome that but I like the team we have right now. There's a couple of adjustment we have to make within ourselves like Andrew Bynum dominating the whole season, dominating every second whether it is with the pass or the score, and really staying involved and engaged. Different little things like that help out a team. Just another year under Coach Brown. He wasn't out there turning the ball over, he wasn't out there out of shape, that wasn't Coach Brown so it was a little bit of everything and I think it's an easy adjustment for us to make."
What he plans on doing once his NBA career comes to an end:
"I'm not sure yet. I still like coaching. I think I may want to coach for a little bit or try to be an assistant or a general manager for a little bit or something like that. I don't want to do that too long because I do want to act and I'm thinking about talk show possibilities too. I'm not sure yet."
This post, written by Chris Fedor, appears courtesy of Sports Radio Interviews. For the complete highlights of the interview, as well as audio, click here.
More from Sports Radio Interviews
• Scott Raab has been holding up remarkably well.
• Larry Fitzgerald has no idea what's going on at quarterback.
• Hakeem Nicks promises he'll be ready for training camp.