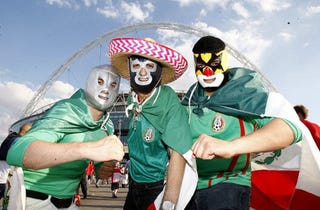 During any football match, there are numerous battles going on. You've got the obvious one on the pitch, accompanied by hundreds of verbal ones in local pubs around the country, whilst in a wasteland somewhere geographically equidistant from the clubs...
Danny Dyer is presumably bricking someone in the face.
But more important than almost all of those is the supporter's fancy dress war that's going on in the stands. It tells you much about a nation/club — acting as an insight into their national identity, as well as suggesting how seriously they take arts and crafts. And last night Mexico won.
While the England supporters lazily popped on a Rooney shirt — some accessorising with a silly afro wig, or a flag unimaginatively draped about their shoulders — the Mexicans went all out to create hilarious "characters", meaning a corner of Wembley was awash with crazy outlaws, magnificent face painting, and more than a few masked men.
Last night, England may have won their battle on the pitch, but Mexico won the war in the stands. Pull your fingers out, England fans…
This post, written by Josh Burt, is republished with permission from The Spoiler. Go there often if you like soccer stuff.