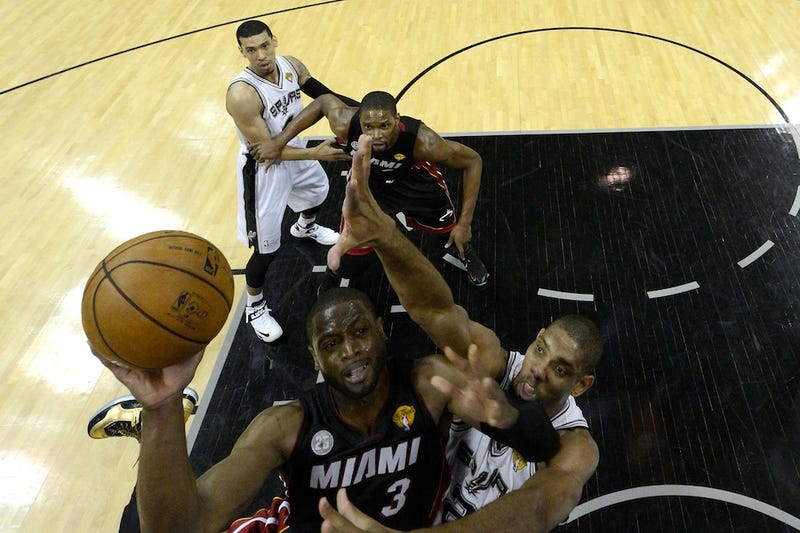 For much of the playoffs the question had been whether LeBron James could just get some help from his teammates. By the time Game 3 of the Finals rolled around, it began to look like LeBron was fading. But in Game 4, LeBron, Dwyane Wade and Chris Bosh finally put a game together in the playoffs to live up to the "Big Three" name. LeBron had 33 points, 11 rebounds and 4 assists. Bosh had 20 points, 13 rebounds and 2 steals. Dwyane Wade had a huge game with 32 points, 6 rebounds, 6 steals and 4 assists.
It was yet another near must-win game for the Heat and yet another decisive victory. This is now officially the Miami narrative. It's not so much that they only win when their backs are against the wall, it's that they dominate when they are an inch away from it. They did it against Chicago and Indiana before San Antonio. Tim Legler called them the hardest team to forecast game-to-game but it's not difficult, it's just counter-intuitive for a great team. If they can afford to lose, they probably will, otherwise they will run all over you.
Meanwhile, the perfect storm for San Antonio that was Game 3—terrible shooting from LeBron and the Spurs' own otherworldly shooting from three—was gone. What seemed like an unstoppable team one night, now looks just as old and lurching as they are reputed to be. It's possible that's not the case and that San Antonio has a personality just like the Heat's and only turns it on when necessary.
The only problem with that is San Antonio's Big Three are now the Big One-And-Three-Quarters. Duncan is still there, taking up space, averaging a double-double for the playoffs (though he wound up with 20 and 5 tonight) but Manu Ginobili and Tony Parker are shadows of their former selves. Ginobili had five points and two assists in 25 minutes and seems completely gassed while Tony Parker is clearly limited by the hamstring injury he suffered in Game 3. Unless Danny Green and Gary Neal go bonkers from three again, it's going to be tough for Tim Duncan to carry the load the same way LeBron can if Wade and Bosh disappear again.
Photo credit: Getty