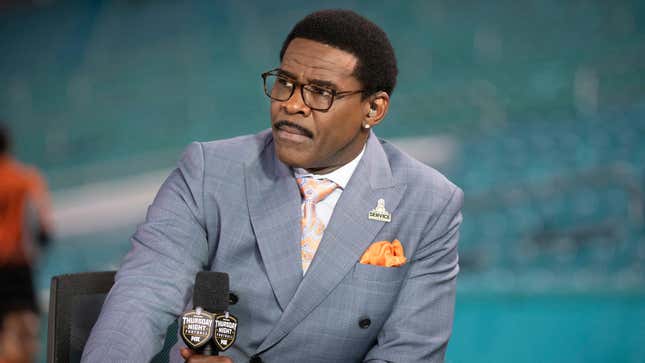 Last month, NFL Hall of Famer Michael Irvin was pulled from TV during Super Bowl week due to a misconduct allegation made against him. Since then, things have become a mess. The saga continued on Tuesday.
Could Tom Brady replace Shannon Sharpe? | Agree to Disagree
Below you will see a link to the security footage that was released on March 14, 2023. It appears to show Irvin having a conversation with the woman who brought forth the allegations.
The reason the video is so important is that Irvin previously filed a $100 million lawsuit against Marriott — where the incident took place — as he believes he's being "railroaded" with false accusations that are ruining his career.

"Honestly, I'm a bit baffled with it all," Irvin told the Dallas Morning News in February. "This all happened in a 45-second conversation in the lobby. When I got back after going out ... I came into the lobby and I talked to somebody. I talked to this girl. I don't know her, and I talked to her for about 45 seconds. We shook hands. Then, I left. ... That's all I know."
According to reports, the allegations against Irvin go like this:

"At the start of the interaction, Marriott's lawyers stated Irvin "stated that [the female hotel employee] was attractive and reached out to shake her hand, asked her name and introduced himself as 'Michael.'" Moments later, Marriott alleged Irvin "reached out and touched the Victim's arm during this conversation without her consent, causing her to step back, becoming visibly uncomfortable."

"Irvin then asked the victim whether she knew anything about having a 'big Black man inside of [her],'" the filing continued. "Taken aback by Irvin's comments, the Victim responded that his comments were inappropriate, and she did not wish to discuss it further. Irvin then attempted to grab the Victim's hand again and said he was 'sorry if he brought up bad memories' for her. The Victim pulled her hand away and tried to back away from Irvin as he continued to move towards her."

Irvin has been passionately denying the allegations.

"This sickens me," Irvin said. "This takes me back to a time where a white woman would accuse a Black man of something, and they'd drag him through the mud and hang him by a tree. … It just blows my mind that in 2023 we are still dragging and hanging, brothers."

On Tuesday, Irvin dropped the $100 million lawsuit against Marriott in a Texas court, as his lawyers have announced another lawsuit over the alleged misconduct in an Arizona Court.
It's beyond messy.

In 2018, Irvin was named in a sexual harassment lawsuit filed against NFL Network, and also served a previous suspension by the company. In 2017, the Broward County (Florida) State Attorney's Office chose not to pursue charges against Irvin after a sexual assault investigation. (He denied the allegations.) In 2011, a settlement was reached in a civil lawsuit that accused Irvin of sexual battery. And in 1997, a woman that then accused Irvin and former Cowboys teammate Erik Williams of rape in 1996 recanted her story and admitted she lied, according to the police.