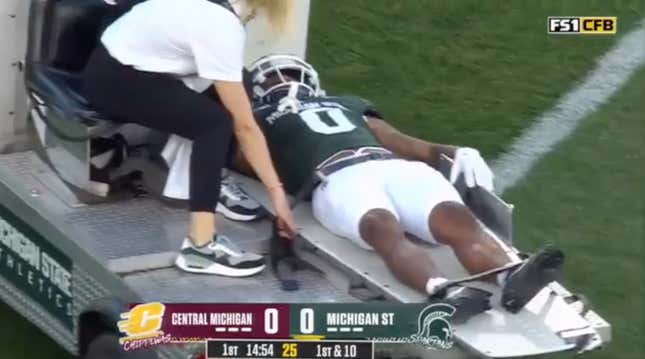 The college football season is back, and with it, negligent and dangerous coaching decisions. In East Lansing on Friday, senior receiver Alante Brown was knocked out while blocking on the first kickoff of the game. He was carted off, but somehow managed to return to action, taking a kick 16 yards before being shelved for the rest of MSU's win over Central Michigan.

"All those decisions are all medical," Michigan State head coach Mel Tucker said. "Whether a guy plays, or doesn't play, if he practices, or doesn't practice, it's all medical. I don't have anything to do with those."
Flopping and slurring and gambling, oh my! | Worst of the Week
The plays in question, and that clueless Tucker quote, start at the 1-minute mark of this clip.
It's impossible to watch Brown fall to the ground, not even brace himself, and think he should be anything but done for the day. Obviously, a head coach has 15 million things happening during the course of a game, and Tucker likely delegated the handling of Brown to his medical staff.
That said, the kid was on a stretcher, on a cart, his leg was shaking or spasming, and it shouldn't take a Ph.D. to determine the best path forward.
For a coach making as much as Tucker to hide behind the actions of his staff — assistant coaches, physicians, trainers, or otherwise — is detestable, deeply concerning behavior.
When he was awarded a 10-year, $95 million extension in 2021, the university could not have been more proud of its football coach. Tucker oversaw an 11-win season, had just beaten Michigan, and was getting interest from big-boy programs like LSU.
The follow-up to that double-digit win campaign saw the Spartans go 5-7, punctuated by a brawl with Wolverine players that was more of a jumping than a fair fight. After multiple of his players were suspended for the incident, Tucker said, "Michigan State football is about integrity, discipline, unselfishness, toughness, and accountability. The incidents involving a small group of our players do not represent our culture."
On Friday, during a first half that ended in a 10-7 advantage for Sparty, fans were calling for Tucker's job, and if his buyout wasn't $75 million, he could've coached accordingly. Instead of acting like a guy with gobs of job security, and prioritizing the health of his kickoff returner, Tucker did everything he could to shift a responsibility, and hold anyone but himself accountable.
In that case, Tucker's inaction seems like a pretty accurate representation of Michigan State's culture.