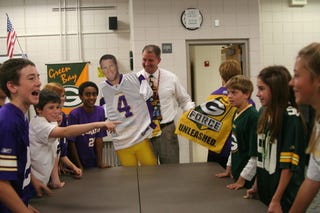 Last week, the Wall Street Journal published an item in a notes column, detailing the possible scapegoats for the Vikings loss. No mention of Favre. That's not good enough for Mr. Kloepping's social studies class.
Barry Kloepping (no relation) and his class in Oostburg, Wisc., wrote a letter to the editor, which we'll reprint here in full.
As a middle-school social-studies teacher who is teaching eighth-graders about the American Revolution and the role of peaceful protests in our democratic society, I must protest the publication of your "Heard on the Field" item "Vikings Blame Game" (Sports, Jan. 27).

Our middle school is located one hour south of our beloved Green Bay Packers, and we all enjoyed watching Brett Favre end his season the way he has the last three years, by throwing an interception. Your article fails to place the blame even partially on the shoulders of No. 4. In fact, and quite ironically, his name isn't even mentioned. Did you not see Mr. Favre roll right and then throw back across the field and throw an interception, thus negating the chance for his kicker, also a former Packer, to take a shot at a 57-yard field goal? Even our eighth-grade quarterback knows better than to do that.

Barry Kloepping and the eighth-hour Social Studies class, excluding Meghan and Shannon
Dear Meaghan and Shannon: you're studying the American Revolution, but apparently you haven't gotten up to Benedict Arnold yet. Once you do, you'll see that he sold out a burgeoning republic, costing perhaps thousands of American lives. I hope you'll keep in mind that going to play for a divisional rival is a million times worse than that.