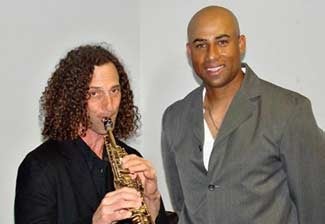 Also from a few days ago here, but hey: We were on vacation. We've always kind of admired Seattle pitcher Miguel Batista. He fancies himself a Renaissance Man, writing poetry, performing music, generally being a different bird than your everyday average athlete. The bar a player must clear to be considered an "intelligent athlete" is a low one, and he seems to have cleared it. Until we learned who his idol was.
The idol of this poet is not Emily Dickinson, or Robert Frost, or even Dr. Seuss. Nope: It's Kenny G.
"He played for me," Batista said. "It was my favorite song, 'Alone.' Now, I feel like I've had everything. I've talked pitching with Sandy Koufax, had Kenny G play for me. Maybe if I could have an interview with God, then I'd be served. I'd be complete."
Batista's "thriller novel" is called The Avenger Of Blood, which is kind of confusing and sounds like an early '90s Sharon Stone movie. We eagerly await his next novel, which will surely feature blurbs by Sandy Koufax, Kenny G and God.
Fan Batista Meets His Idol Kenny G [Seattle Times]