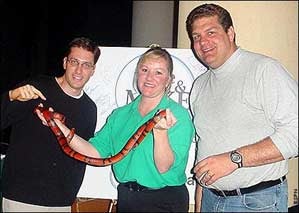 Because of a missed appointment, after we filed our Sporting News column last night, we spent the evening stranded at a cheesy Glendale sports bar, waiting for a cab that never came. (We literally spent four hours roaming around the greater Phoenix area doing nothing last night. We miss public transportation already.) The bar is the Fox Sports Grill in Glendale, right across the street from where Mike And Mike did their radio show this morning. Stagehands were setting up the stage for them last night.
The Fox Sports Grill is a rather depressing place on a Tuesday night, and it was just us and five other people, drinking and being quiet. Over in the corner were two moderately attractive women in, we'd guess, their early-30s. Two guys we didn't recognize but were clearly in town for the Super Bowl, walked up to the bartender.
"Hey, you know any bars around here where a couple guys could find some ladies to talk to?" one said.
The bartender did his best to suppress a frown. We were at a suburban sports bar; half the people in the restaurant were families.
"Dunno, man, it's not really getting hopping until tomorrow," he said.
The two men looked around and saw the ladies up front. "You think we could sit next to them? Or at least across from them? Make some eye contact?"
"Knock yourself out," the bartender said. He then turned to us. "Hey, might as well ruin those girls' nights too."
A couple middle aged locals sat at the bar and asked the bartender, "So, is that ESPN out there? Mike and Mike?" The bartender said yeah, "we're total celebrities this week."
"Mike and Mike, man," one local said. "Just down the road from my house. Super Bowl's crazy, man. It's crazy."