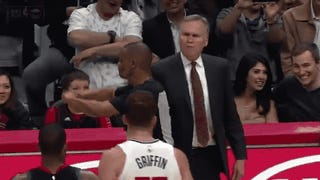 Things got chippy at the end of the Clippers' win over the Rockets on Monday, and at the center of it all was Blake Griffin. The L.A. big man eventually got ejected for a little tie-up with Trevor Ariza, but before that, he got some hate from Rockets coach Mike D'Antoni.
Griffin was apparently upset that D'Antoni was stepping outside his allotted coaching area throughout the night, but he seemed generally tense all game.
Maybe he was just sad about Chris Paul's return to Los Angeles.
Update (1:42 a.m. ET): The chippiness didn't end with the game: