Every morning, the fine folks at Sports Radio Interviews sift through the a.m. drive-time chatter to bring you the best interviews with coaches, players, and personalities across the sports landscape. Today: Leave the shutdown decisions to the experts.
Nationals GM Mike Rizzo joined 106.7 The Fan in DC with Holden and Danny to discuss the Washington Nationals not being concerned about setting win records for the organization, his meeting with Davey Johnson and Stephen Strasburg this week, and the decision making process behind shutting down Stephen Strasburg next week on September 12th.
You guys set a record for wins for this Nationals team in D.C. Did you guys have a moment to sit back and enjoy the 82nd win?
"I personally can speak for myself. I really didn't even give it a second thought. It was another great victory and not that we are taking victories for granted, but we've got bigger and better things to do on our minds than setting win records in D.C. Our thought process is looking ahead and finishing strong and winning as many games as we can and winning divisions and looking forward to games after that."
How was the conversation that you and Davey Johnson had with Stephen Strasburg? Can you talk about that? What was Stephen Strasburg's demeanor when you said September 12th was the date to shut him down?
"Well Stephen Strasburg is an ultra competitor. He's not happy with the decision. He thinks he can continue to contribute to the ball club and that type of thing. He expressed his opposition to it and we just tried to explain to him what our thinking was and gave him our rationale and at the end of the day I think he is accepting of our decision. He disagrees with it. He's going to be a terrific teammate going down the stretch and he's going to be involved in everything we do. He's going to have to contribute in other way than pitching on the mound. He is going to have to contribute as being a great teammate and a supporter of the rest of the pitching staff."
What were the signs that made you say it was time to shut down Stephen Strasburg on September 12th?
"You know what, I'd rather not. That's proprietary information that we want to keep to ourselves. Suffice to say the people that have opinions on this know about 10% of the information that we know. I think we've expressed our information to the people that we needed to express it to and we'll keep that information in house. We just asked Stephen Strasburg and other people to trust that we are making the right decision and that this decision hasn't come lightly. It's come with a lot of scientific information and medical information and baseball development information, so we've asked a lot of experts and we've followed consistently the plan that we've had in place here since I have taken over as general manager. It's been seen in many other cases and you are looking at two of them in our starting rotation. Jordan Zimmermann and Ross Detwiler, which were both stair steps up as their innings increased over the years and were held back because we had a plan in place for them also."
G/O Media may get a commission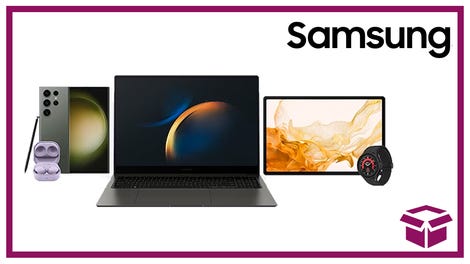 24 hour deals
Discover Samsung - Daily Deal
This post, written by Steven Cuce, appears courtesy of Sports Radio Interviews. For the complete highlights of the interview, as well as audio, click here.
More from Sports Radio Interviews
• Amar'e Stoudemire didn't punch that fire extinguisher, he only slapped it.
• London Fletcher says the replacement refs are doing the best they can.
• Davis Love defends putting his buddy Jim Furyk on the Ryder Cup team.