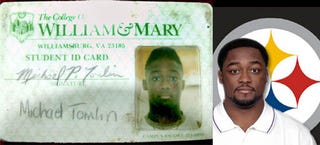 I'm not sure why this was sent to us or what it has to do with anything, but here it is—Mike Tomlin is a organ donor!
Oh, wait ... I mean he went to William & Mary, which is equally shocking. Also, the man has not aged. Don't let the fly "Kid 'N Play" high top fade fool you. The man is a sentient football-coaching robot. With a fantastic barber. If any Cardinals fans would like to go back in time and pull a Sarah Conner on his family, take this with you.
Anyway, I've been offline for two days. Did I miss anything? I'm trust that Pete's first solo flight was uneventful, with no large, controversial news stories to speak of. So let's take a look at today's slate of footba... oh. Right.
....sigh....
Actually, we've got NHL at 12:30, an NBA double-header at 1:00 and I'm sure we can find a college hoops game or something in there. Plus, I think today may be a good day to dump all the stuff piling up in my inbox that I didn't have the time or the heart to post during the week.
We're all in this together.