The Colorado Avalanche improved to 10-6-4 on Sunday against the Ducks, thanks to an overtime near-buzzer-beater from their newest young stud: the 22-year-old Finnish right winger Mikko Rantanen. With just 1.3 seconds remaining before a shootout, Rantanen took advantage of the space provided by 4-on-3 play and fired a wicked one-timer that flew past Ryan Miller, earning two points for his team in the most dramatic fashion.
Rantanen's goal was his eighth on the year, and when combined with the two assists he also got against the Ducks, he became the first NHL-er to hit 30 points. He has 32 in 20 games, which leads the league and puts him three up on ... Colorado's Nathan MacKinnon, a.k.a. the guy who fed Rantanen the pass for the game-winning one-timer, a.k.a the guy who probably should have been MVP last season.
That MacKinnon and Rantanen are producing at such an impressive rate is no huge surprise—along with Gabriel Landeskog at the other wing, they form perhaps the best line in hockey over the past two seasons. But in 2017–18, MacKinnon and the still-emerging Rantanen were more of a Batman and Robin partnership. MacKinnon's 97-point year made him the unquestioned alpha of the Avs, and it was mostly his gravity that appeared to both juice Rantanen's numbers and push the team into the playoffs.
This year, Rantanen has improved himself to become every bit the equal of the center who's just one year his senior, showing an uncanny ability to find his talented teammates in prime real estate while also serving as a threat to score himself whenever he gets inside the blue line. The way he both muscles off the opposition and then eliminates two defenders with an incredibly subtle pass here is just breathtaking:
The overwhelming talent on the ice when Colorado has their best skaters out there also means that taking a penalty against them is lethal. You cannot give Rantanen any more space or any less attention, and he's a big reason why the Avs are over 30 percent on the power play so far this year. Watch how just a little tac-tac-toe passing earns Rantanen an entire face-off circle to himself, which he does not squander:

G/O Media may get a commission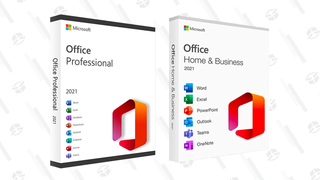 89% off
Microsoft Office Professional 2021 Lifetime License
By improving on his breakout season, Rantanen has quickly proven that he's not simply a beneficiary of Nathan MacKinnon's talent—he augments MacK's scoring ability better than maybe anyone else could. Together, the two form the scariest Colorado duo since Joe Sakic and Peter Forsberg in the late '90s—except these two actually share the ice at the same time. The connection they have is enough to make the opposition totally helpless. Both players require shutdown defense with or without the puck, which—when you factor in Landeskog, too—is mathematically impossible for an opponent to do. Watch how a defense plays both Landeskog and Rantanen pretty tightly on the rush, which leaves MacKinnon in all alone for Rantanen to find:
Beyond that incredible top line, though, there's not a whole lot else for Colorado's opponents to be worried about. While Semyon Varlamov has started strong in net, and a couple of the other kids on the second line—Alexander Kerfoot and Tyson Jost—have shown some flashes of scoring ability, the merely average depths of the roster means that other teams can usually breathe a sigh of relief whenever the Avs' starters aren't on the ice. Colorado can have two of the NHL's best producers on the ice for more than 20 minutes a night, but in a tight and talented Central Division, they're still far from a lock to make the postseason.