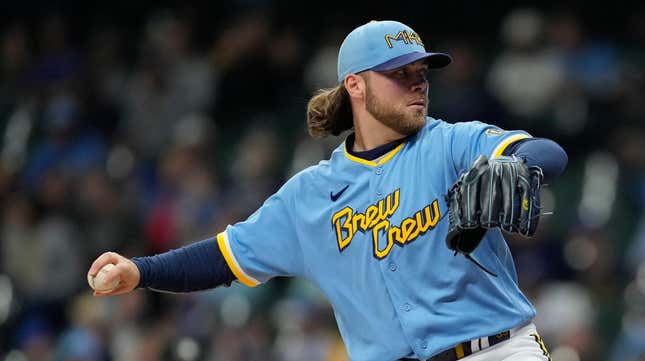 How much money is $750,000 to a baseball team, hm? According to Spotrac, the Milwaukee Brewers have already determined the 2023 salaries for 20 of their players. All of them will be earning more than $1 million. Given that MLB rosters can consist of 26 people, we can say that, at most, six Brewers will earn less than a million dollars this year.
The best ERA+ belongs to who? | Stats that will blow your mind
Of those six, how many do you think will earn $750,000 or less? Keep in mind, the MLB minimum salary for 2023 is $720,000. By 2025, the MLB minimum salary will eclipse that $750,000 mark, climbing to $760,000. The answer is probably somewhere between five and eight. It's unlikely that any of these players making that money will make much of an impact this season. They're the most replaceable players on that roster. You know who isn't replaceable though? The team's ace.

Corbin Burnes is Milwaukee's ace, but not being paid like one
For each of the last three seasons, Corbin Burnes has led the Milwaukee Brewers pitching staff in ERA, and has been top-two in both strikeouts and strikeout rate in each of those seasons as well. He won the National League Cy Young Award in 2021 and has finished top-10 in voting each of the last three seasons. On Wednesday, Burnes expressed disappointment with the Brewers following his arbitration hearing, particularly with how the organization handled negotiations.
"There's no denying that the relationship is definitely hurt," said Burnes, much to the chagrin of Brewers' fans everywhere. "Some of the things that are said, for instance, basically putting me at the forefront of why we didn't make the postseason last year — that's something that probably doesn't need to be said."
OUCH! Yeah, claiming arguably your best player is the reason you missed the playoffs isn't factual or smart, and I don't blame Burnes for being so candid about his opinion on the organization.
I'm not here to talk about those comments though. I want to talk about a different comment. According to reports, there was a $750,000 gap between the Brewers' and Burnes' submissions. That's practically nothing for an MLB franchise. As I said, it's just above the league minimum, meaning both parties were willing to go to trial for essentially a league-minimum value player. Could you imagine that for a second, if a team like the San Francisco Giants went to trial for someone like Austin Wynns (no offense to Wynns)? That would be absurd! And this is a Cy Young winner we're talking about! Just give him what he wants! It's not like he was asking for his salary to be doubled, just a seven percent increase for one of the best pitchers in the National League.

Steve Adams of MLB Trade Rumors explains that the Brewers likely fought so hard against that $750,000 gap because of the precedent it would set for future arbitration cases. If every team was willing to bend to their best players in arbitration, those increases in arbitration-determined salaries would become the expected salaries for all players moving forward. For example, back in 2006, Dontrelle Willis was given $4.35 million as a first-time arbitration-eligible pitcher and that stood as the standard for 15 years despite players across the league consistently earning more and more in that span. That said, this move is still sure to anger both fans and players alike. If the team isn't willing to invest in themselves, why should fans or impending free agents?

If there was any player to set a new standard for this kind of negotiation, it's Burnes. The inability to fork over a league minimum salary has done what appears to be irreversible damage to their relationship with Burnes. This isn't the type of slight that just goes away, and Burnes will likely keep this in mind when he becomes an unrestricted free agent. Burnes deserves the money. At his current salary, he won't be the highest-paid pitcher on the Brewers in 2023. That's no knock against Brandon Woodruff ($10.8 million in 2023), but Burnes has undoubtedly been the more effective, reliable, and healthy pitcher over the last few years. Hell, even if Burnes got what he wanted, he still wouldn't be the highest-paid pitcher on the team.

It's moves like this that make me worried for the future of baseball. I've long griped about the disparity of wealth in MLB. The richest teams only get richer and the poorest teams only get poorer. This Burnes situation will likely feed into that disparity. While Burnes may have previously held some respect for the Brewers' organization and considered staying with them once he became a UFA, he'll, in all likelihood, opt for a team that can pay him oodles of cash, because if he's going to get screwed over, he might as well get paid for it.

The Brewers ranked 19th in payroll in MLB last season. Only three teams below league-average payroll reached the postseason. In this league, you have to spend money to win games. That's just the way it is. The Brewers are currently on track to rank 19th in MLB again, which means they probably won't reach the playoffs again. Hey, at least when that happens, they can blame Burnes for it two years in a row.