Welcome to Minor Enterprise, where we preview, and occasionally review, the great events of minor league baseball. Each Wednesday we'll take a look at the promotions, players and mascots which populate our minor league ballparks; the unsung heroes of our national pastime. (Minor Enterprise not responsible for items thrown by Joe Mikulik). If you have a good tip about a minor league promotion, or perhaps you're dressed as a large mascot beaver and are hopelessly stuck in the suit, contact us at tips@deadspin.com.
Although now nearly extinct in the wild, the mullet once roamed in great herds across the North American continent. And thanks to the Portland Beavers of the Pacific Coast League, you can relive the glory on Thursday during Miller Lite Mullet Night, as the Beavers take on the Oklahoma RedHawks. Among the Mullet Night activities in previous years have been hubcap-tossing, toilet-seat horseshoes, a redneck dress-up contest and demoltion derby. Or wait, that last one may have been just the clearing the parking lot at the end of the game. (Ba-tum-pum.)
This week's other featured minor league promotions (thanks as always to Minor League Promo's Benjamin Hill):
• Jay Buhner Appearance (Monday, July 31, Yakima Bears, Northwest League). Yakima County Stadium welcomes former Seattle Mariner outfielder Jay Buhner (310 homers over 15 seasons in the majors), who has actually never set foot in Yakima before now. Why not shave your kid's head and ask Buhner to sign it?
• Let Them Eat Cookies; Unorganized Cookie Monster Protest. (Tonight, Charleston Riverdogs, South Atlantic League). It's not too late to head over to Joseph P. Riley Jr. Park to participate in the Let Them Eat Cookies; Unorganized Cookie Monster Protest. Presumably this is in response to the recent news that the Cookie Monster would not be promoting cookie consumption any more due to their nutritional characteristics. By the way, the Riverdogs are also hosting "Play with Your Harmonica" night on August 19. Do you think Mike Cooper would be allowed to attend? (Thanks to Matt Drake).
• Original Dukes Of Hazzard Night (Tonight, Mankato Moondogs, Northwoods League). Well, there will actually be only one. Will it be John Schneider? Tom Wopat? Catherine (Daisy Duke) Bach? Um, no. It's James Best, who played Rosco P. Coltrane. Bring the kids!
G/O Media may get a commission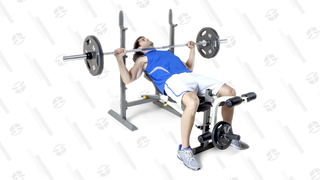 10% Off
Marcy Folding Weight Bench
• Bobblehead of the Moment: Thursday is Chien-Ming Wang Bobblehead Giveaway Day for the Staten Island Yankees of the New York-Penn League, as they play the Batavia Muckdogs. Don't forget that before he made the big club in 2000, Wang was a Staten Islander. His No. 41 is being retired on Thursday, and Wang will be at the game! Be one of the first 2,000 lucky fans and you will snag this great prize. As always, we want photos.
• Mascot of the Week: Ichiroach Suzuki. Part of a stable of inflatable mascot characters called the ZOOperstars, which travel to different minor league parks thoughout the year to entertain fans with their crazy (scripted) antics. There's also Clammy Sosa, Harry Canary ... you get the idea. The problem is, at many venues, extra security must be hired to keep fans from pelting the mascots with beer bottles, promotional mini bats and food. (Thanks to Patrick J. Sauer).