Here we have Tim Hagerty, a broadcaster for the Triple-A El Paso Chihuahuas, and Chris Smith, a pitcher for those same Chihuahuas doing a standard get-to-know-you interview. You know, how do you like El Paso so far? and Love the community, love the fans and OH MY GOD IS THAT GUY OK?
The guy who took the fake punch was pitching coach Mike Cather and he actually scuffed himself up on the fall. But it was obviously worth it and perfectly executed. The reporter's got a bit of a smirk the whole time and this is minor league baseball, so who knows if he knew it was coming. Either way, it makes for a pretty great GIF.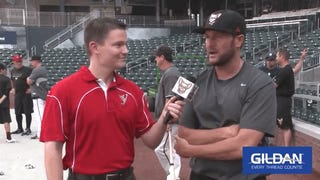 There's also a bit of bat swordplay at the end, but the punch is where it's at. Always remember, when it comes to things baseball players love, fucking with a teammate while he's being interviewed is hard to top.
h/t Rod