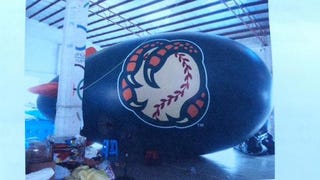 The Boise Hawks, a Colorado Rockies farm team, are fed up with the sun. For too long, the threat in the sky has shined in the eyes of fans at Memorial Stadium. (Earlier this week, it bossed around Blue Jays and Red Sox players.) The Hawks have a strategy now, however: a blimp.
The Idaho Statesman explains the team's plan:
The Hawks will float the blimp between home plate and the third-base stands in an attempt to create shade for fans along the first-base line. Ropes will tie it to the ground with a pulley system, allowing the club to lower the blimp as the sun sets.

"It's not one of those things where we're promising every person who sits in the first-base section that you're going to have some shade," [Hawks president Todd] Rahr said. "We couldn't do that. But this is our attempt to try to start solving that problem."
And what an attempt it will be. The blimp will have a test run today:

With this blimp, the fans can watch their minor league baseball in peace, and no longer succumb to the desires of the sun. Fight back!
Photo via @Jeff_Eiseman
H/t to David
---
Contact the author at samer@deadspin.com.