If there hasn't actually been an increase in the number of pitchers struck by line drives, there's at least been more awareness of player safety. To that end, MLB has officially approved the on-field use of a padded cap for pitchers. But will any actually wear it?
In just the past two seasons, we've seen heart-stopping moments and terrible injuries for Brandon McCarthy, J.A. Happ, and Alex Cobb, among others. It's frankly a wonder no players have died yet—and after minor league first-base coach Mike Coolbaugh was killed by a line drive in 2007, MLB made batting helmets mandatory for base coaches the following season.
After testing a number of prototypes from various companies, MLB has approved one—manufactured by IsoBlox, and pictured below—for game action. Its use is entirely voluntary, but according to an MLB-commissioned study, it can protect against line drives of speeds exceeding 85 MPH. (MLB says 83 MPH is the average speed for a comebacker.)
G/O Media may get a commission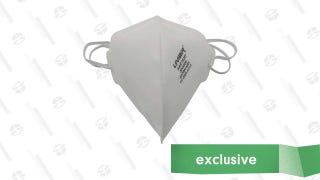 NIOSH CDC-Certified N95 Masks (10-Pack)
According to the company, the caps are about a half-inch thicker in the front, a full inch thicker over the temples, and weigh an additional seven ounces. That's triple the weight of a standard cap, and for pitchers, that might be too much. Brandon McCarthy put one through its paces yesterday, and says unequivocally he won't be wearing one in its present form.
For all its safety benefits, McCarthy believes it's too hot and too bulky. He's always aware of it when wearing it, and to feel comfortable using it in a game, he says "it needs to disappear."
J.A. Happ, too, expressed reservations about any cap so cumbersome that a player can't forget he's wearing it. Other pitchers, while welcoming moves toward more protection, echoed those sentiments.
So, it's not there yet. But these things take time. Expect padded caps to become increasingly mandatory in youth baseball, if just for liability issues. Within a few decades, every major leaguer will have grown up wearing them, and those extra inches and ounces will be no big thing.