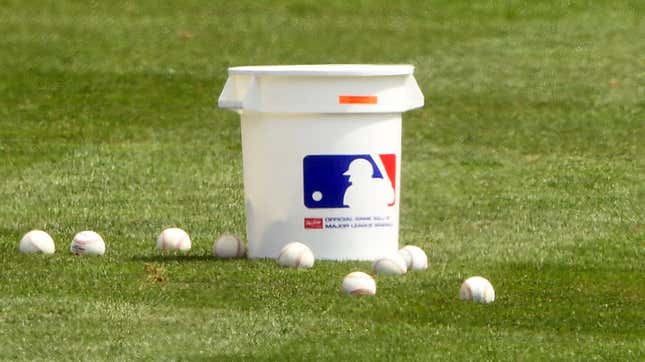 The baseball season not even being quite a week old is probably not the best time to draw conclusions. That's not going to stop us though, as within these walls is where logic goes to die. But if you've been paying even cursory attention so far, you might have noticed some boxcar numbers being tossed up onto scoreboards around the league. The Philadelphia Phillies and Toronto Blue Jays went through a weekend where they couldn't get anyone out. The Boston Red Sox have given up 34 runs in five games, and that's not even league-worst. The Tampa Bay Rays and Los Angeles Dodgers have piled up 37 and 38 runs, respectively. It's gotten a little nutty.
The calm baseball fan, the non-conspiracy theorist baseball fan (if those exist, which they don't) might say, "Hey dingus, all the new rules changes were meant to boost offense. Stolen bases are up, there are more holes for left-handed pull hitters, so, of course, there will be fireworks aplenty, you miserable cuss you." And that's not necessarily wrong. Except…shifts and stolen bases don't really have much to do with baseballs flying out of parks at an alarming rate. You can put your fielders wherever you like, you can make the bases their own space stations, and dudes pulverizing baseballs over various walls and into the laps of various punters around the nation is its own thing.
Six days in, there have been 190 home runs across baseball. At this point last season, there were 152. The league's slugging percentage is .413 as opposed to .379 last year. Now you may say the boost in slugging is because of the boost in singles and the boost in batting average (.231 to .250) due to the shift. Could be. But here's something for ya.
There have been 29 home runs hit the opposite way so far this season, compared to 17 at this point in the season last year. 12 home runs don't sound like a lot, maybe even just an anomaly for the sake of an anomaly. That's still a 70 percent jump. League-wide, 5.2 percent of fly balls are ending up as round-trippers. That's up from 3.8 percent at this point last year.
Again, it's a week, and things could flatten out. But if things flatten out, will it be because baseball just like to go in waves or because MLB decided to take the gremlins out of the baseball?
You can you StatCast to prove anything that's remotely true
Raising more curiosity is that the average exit velocity so far is down, to 88.8 from 89.4. So's the average launch angle (12.1 from 13.4). Hitters aren't barreling nearly as many pitches (6.9 percent this season after 8.7 last season). Things that make you go hmmm….
Has the shift made a difference? Probably. The league's BABIP is up nearly 20 points to .297. On ground balls only, where you'd expect the shift ban to make the most difference, hitters have a .232 average, up from .219. But there hasn't been much of a difference for lefty hitters, the more shifted against crew. They're hitting .211 on grounders this year, against .210 after six days last year. So that's not explaining the uptick in runs. (all numbers from FanGraphs)
Yes, steals have doubled. And more runners in scoring position certainly makes it easier to score on hits. Batting average with runners in scoring position has risen as well this season, so far, but there have been about 100 more PAs across the league this point in the season than there were last year.
But still, that doesn't explain the jump in homers, and the jump in opposite-field homers. Or the fact that hitters are hitting the ball slightly less hard than they did and yet are ending up trotting around the bases more often. And all of that is while fastball velocity is up a tick (93.7 to 93.4 last year). It's not like they're facing less nasty stuff.
Check this space when Dr. Meredith Willis gets a hold of this year's baseballs.