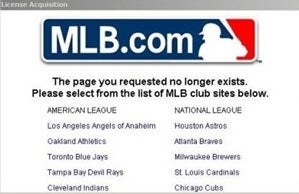 We remember being quite excited a couple years back when MLB.com started offering classic games for download. The notion of buying an old Cardinals World Series game that we could have forever, to watch whenever we'd like. Thanks, MLB! Of course, forever isn't exactly forever, not with the fine folks at MLB.com running the ship.
It turns out that MLB.com has changed their server suppliers — or some tech thing we don't understand — and if you bought any of those games, they no longer work. And they never will: They're now useless, and MLB isn't giving refunds.
Just got off the phone with a MLB customer service supervisor. "MLB no longer supports the DDS system" that it once used and so any CDs with downloaded games on them "are no good. They will not work with the current system."

Great. Just effing great. ... As I told the supervisor, this is right in line with how wrong-headed and stupid and ass backwards MLB does everything. I was told there is absolutely nothing MLB can do about these lost games. Plus, they said my purchases were all "one-time sales" and thus "there are no refunds".
So, let this be a lesson to anyone out there who considers purchasing anything from MLB.com: Whatever you just bought will be obsolete whenever MLB.com decides that it is, and there's nothing you can do about it. Really makes you want to whip out the credit card, doesn't it?
MLB Rips Off Fans Who Bought DRM Videos [Boing Boing]
(UPDATE: MLB just sent out the following email:
Dear Valued Customer,
It has come to our attention that a small subset of our MLB.com Digital Download customers are unable to access and watch certain games that they purchased prior to 2007. MLB.com is committed to ensuring that all non-functioning MLB.com Digital Downloads that were previously purchased are again made available at no additional cost to our customers.
If you are unable to view any MLB.com Digital Download game that you purchased prior to 2007, please contact MLB.com Customer Service by either (1) sending an e-mail to customerservice@website.mlb.com listing the games that are no longer accessible, or (2) by calling 1-866-800-1275 to speak to a representative.
We will then send you an e-mail containing information on how to re-download and access these games. Please note that all Regular Season games will be available, in the originally purchased format, and all Postseason games will be made available, in the same format currently used on mlb.com/downloads.
We regret any inconvenience, and value your continued support.
Sincerely,
MLB.com)