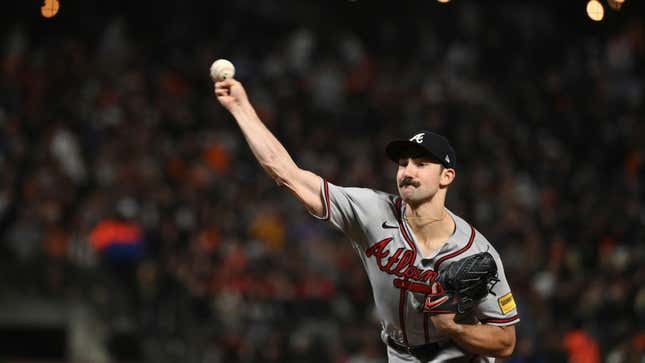 With one month to go in the MLB season it's generally about the time that not only playoff spot chases become pretty clear, but so do individual award chases. If not a clear winner, as one might find with the AL MVP, then at least a couple of candidates have separated themselves and voters at least know what choice they're making. Not so much for the National League Cy Young, though.
How running an NFL team is like running a restaurant | Chef Emeril Lagasse
The American League has a pretty clear favorite in Kevin Gausman, who leads in strikeouts, fWAR, FIP, and is sixth in ERA. There will be calls for Gerrit Cole, which wouldn't necessarily be wrong, as he's the AL leader in ERA and innings pitched. We can somewhat safely say it'll be between those two, barring something goofy in September like Sonny Gray throwing consecutive no-hitters.
But as for the NL, it's kind of a pile of goo.
Blake Snell has been the clubhouse leader, for lack of a better choice, for a while now, as he leads the league in ERA at 2.60. And the name of the game for a pitcher is not allowing runs, which Snell has done. But how Snell has gone about it will have a few voters scrunching their noses. Snell walks the most batters of qualified starters, with a 13.7 walk percentage. His xERA and FIP are a full run over his ERA, suggesting that he's gotten some help from his defense and been highly lucky. Which he has. He's carrying a .267 BABIP, the lowest mark of his career by 10 points, and an 85 percent left-on-base percentage, the highest mark of his career in a full season since 2018. He's been dancing through the raindrops, which is fine because he hasn't given up a lot of runs. At the same time, it's not been the kind of dominance usually reserved for Cy Young winners.
Which moves one along to the Cubs' Justin Steele. He's got the glittering record at 15-3, which we would hope voters don't look at anymore but are pretty sure they do, and 15-3 has a particular gloss to it. He's second in ERA, but hasn't gotten to it with any of the theatrics and rabbit-out-of-his-hat maneuvers that Snell has (his FIP is just 3.09). His walk rate is top-five in the league. All in all, a pretty solid case.
If it's FIP that one might use to try and find the worthy winner, that would lead to Spencer Strider. Strider is certainly in the mold of what people think of as a Cy winner, as most of his outings are pretty much him carving through a lineup like Bricktop's pigs through bone. He leads the NL in FIP and K percentage by a hefty margin. He also leads in xERA if that does much for you, and just in case some dinosaurs are still amongst the voting his 15-4 at the moment is going to look awfully shiny.
None of these so far are the NL's leader in fWAR though, which would be Philadelphia's Zack Wheeler. Wheeler is second in FIP to Strider, fourth in walk percentage, and tied with Strider in WHIP atop the NL.
Zac Gallen was a lot of people's pick for most of the season, though his ERA in the second half of the season is almost a full run higher than the first half, and he's not even leading in innings pitched anymore as Logan Webb and Sandy Alcantara have passed him.
Webb himself is actually second to Snell in bWAR, if that's the preferred method for evaluating pitchers (while it's more complicated, the difference between Fangraphs and Baseball-reference's WARs for pitchers comes down to Fangraphs using FIP over ERA, trying to take defense out of it). Webb is fourth in FIP and fourth in fWAR, which might be enough to make him a finalist but probably not win it without a mighty closing kick.
So yeah, bit of a jumbled mess. Certainly the last four weeks of the season could push any of these guys to the front, especially if any of them put up a sterling performance or two that pushes their team into the playoffs. Strider will have the aesthetics, as there are more 6-inning, 11-K outings in his future which grab headlines. Unless Atlanta keeps him on ice as best they can to avoid a repeat of what happened last October, when an injured and gassed Strider was ice cream for the Phillies.
Beyond strikeouts, Steele matches up with Strider pretty well, and the Cubs will need every start they can get from him to wheeze their way into a wildcard spot. Wheeler is more in the Strider category, as the Fightins look to be a lock for the top wildcard and might not have to go all that hard in the stretch.
There aren't a lot of wrong answers, which means everyone will yell about what is the right one. Maybe the voters will just hand it to Clayton Kershaw — 12-4, 112.1 IP, 2.48 ERA, 120 strikeouts — out of reflex.
---
Follow Sam on Twitter @Felsgate and on Bluesky @felsgate.bsky.social