Richard Lapchick, a researcher at the University of Central Florida, publishes annual "report cards" on gender and racial diversity in several leagues, and they've become the go-to index of diversity in sports. This year's release of the report card was timed to the 70th anniversary of Jackie Robinson breaking the color barrier in the major leagues.

This year, MLB got a C+ overall in diversity across the sport, down from a B- last year. A more granular look at the numbers reveals that although the league office has made strides in improving diversity, individual teams have not followed suit:
Commissioner Rob Manfred's League Office maintained the good grade achieved in 2016 for racial hiring practices as it received an A- for hiring people of color. However, it dropped to a C- for gender hiring practices. People of color comprise 28.1 percent of the Central Office professional staff. Women comprise 29.3 percent of the total Central Office professional employees. Fifteen executives (Vice President or higher) who work at the Commissioner's Office, MLB Advanced Media and the MLB Network are persons of color. 20 female employees hold executive positions in central baseball.

The team levels remain far behind the League Office. Of the six grades for race at the team level, the only A grade was for coaches. The teams received a B+ for Senior Administration and Professional Administration. They received an F for the key position of manager with only three managers of color and a C for general manager with four people of color, both below their all-time highs. In terms of gender, senior team administration received a D+ while professional administration received a C-. "The team front offices need to have more open hiring practices so they will look more like the residents of their community and of America," Lapchick said.
The point that fans and people in hiring positions need to understand is that diversity in baseball's front offices and coaching ranks is not about a polite nod to political correctness, but about ensuring that teams are representing the interests of all their players.

Lapchick writes that by "combining the percentage of black players (7.73%) and Latino, Asian and other diverse players (34.6%), the game has reached unprecedented levels of diversity (42.33%) on non-DL active Opening Day rosters." He also notes that on Opening Day in 2016 there were "259 players born outside the U.S., constituting 34.5% of the league."
G/O Media may get a commission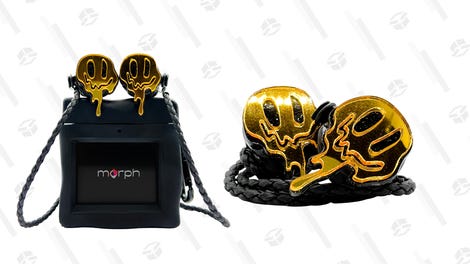 morph audio
Morph Earphones
The league currently has three managers who are not white: Dusty Baker, Dave Roberts, and Rick Renteria. Baker and Roberts were hired ahead of the 2016 season, Renteria ahead of this one. That's not good, but some hope lies in the diversity present farther down the coaching ranks.
Lapchick finds that "for the 2016 season, people of color held 44.3 percent of the coaching positions for all MLB teams. This number is a 6.1 percent increase from 2015. This is an all-time high since it was first recorded in the 1993 RGRC." The coaching field gets an A+ from Lapchick.
But a diverse pool of coaches does not ensure a significant increase in diverse hiring of managers; people in hiring positions tend to hire people they've known for a long time, and studies have shown that these candidates usually look like the people who hire them.
What do the people doing the hiring look like? Currently, there are four non-white men who hold positions with general manager or president of baseball operations titles. Unfortunately, Lapchick classified all senior vice presidents and other high-ranking titles together, not distinguishing between people in baseball operations and those who are not, so an accurate reading of the diversity of people who make decisions that directly affect the on-field product is not found in the report card.
The overall race and gender diversity of team vice-presidents was low:
In the 2016 season, the percentage of people of color holding team vice president positions was 11.7 percent. The percentage of women in these same positions was 16.3%. This compared to 2015 when, the percentage of people of color holding team vice president positions was 13.9 percent. The percentage of women in these same positions was 17.8%.
This is the area in which baseball will probably continue to struggle the most at improving diversity. Teams are increasingly looking to hire people who are highly skilled with data and statistics, fields that tend to skew white and male. These are specialized skills, and baseball lifers often complain that the lack of them keeps experienced baseball people—some of whom might be very bright people of color—from getting into front-office work after their playing or coaching careers come to an end.
If you take a look around the lobby at baseball's winter meetings, it's evident that baseball's highest ranks are white and will stay so. The majority of job candidates—spotted easily by their nervous looks, ill-fitting suits, and lanyards that read "JOB SEEKER"—are white kids looking for internships or jobs out of college. Some of them already have connections to teams or people of note who can vouch for them.
Many of them spent their high school and college years playing for a school baseball team or working for one. The women I've spoken with have had to beg coaches for those opportunities. If baseball experience is necessary, that tells you who has the right résumé and who doesn't.
If you do secure an internship or job with a major-league team, be prepared to be paid like, well, a minor-leaguer. If you want a foot in the door without being an established person in the baseball community—see, front office hires from Baseball Prospectus and Fangraphs—you had better be ready to live on very, very little, or have a family that can financially support you as you pursue your dream. MLB tried to help the clubs in their searches by hiring recruitment firm Korn Ferry, but blew up in everyone's faces when it was revealed that Korn Ferry was just placing white guys who knew Mark Shapiro. But the league can only do so much.
Bringing diversity to a white-dominated field doesn't happen by accident, and it requires a full re-examination of hiring approaches and efforts to build pipelines, as well as a reevaluation of what skills are needed to coach, manage, and run a front office in a game where more than a third of players were born abroad. Commissioner Rob Manfred's office seems to be trying to impress the importance of diversity on teams, but they are trailing far behind the league office in success (and likely effort). And anyway, the league can only do so much; Manfred is, after all, a man with 30 bosses. Only one of them—Arte Moreno—is not white.