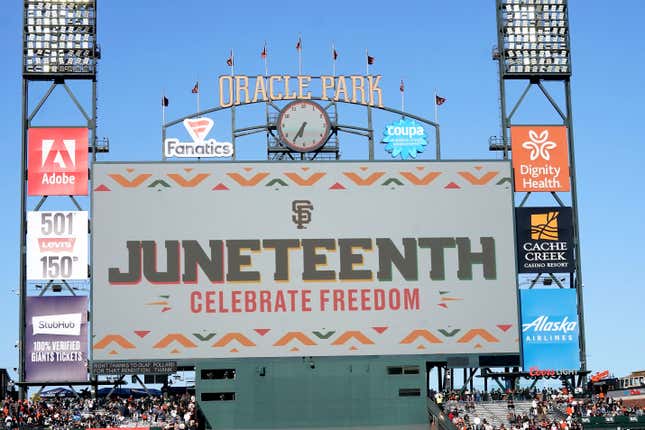 Corporate America is trying to ruin Juneteenth — like the "Swag Surf" and countless things before it. It's the reason why Gayle King had to joke about how "the only white guy at the table is off today," on Monday's episode of CBS Mornings. And why Major League Baseball — a sport that consistently errors anytime it deals with race — feels like they did a good job celebrating the holiday.
The best ERA+ belongs to who? | Stats that will blow your mind
Guilty ones always think they're innocent.
Over the weekend, festivities were held in Boston, Oakland, Arizona, Seattle, Chicago, and Washington D.C., just to name a few places, as programs, exhibits, and songs were all part of the festivities to celebrate a day that white people — and some Black ones, too — just found out about a couple of years ago.
"I've been so impressed with the Red Sox organization and everything that they are trying to do to really make sure that there's healing in our city, to make sure that we are righting wrongs of the past," said Kim Janey, the city's former mayor, and the first Black woman, and person, to ever hold that title. "It's wonderful to see, and we need to do more of it."

That's cute. But how Major League Baseball has treated African-Americans has always been ugly. It's why their "Juneteenth wokeness" is such a slap in the face. There's so much more they could do besides pregame festivities and having Black people sing Black songs to stadiums full of white folks.
Only 6.1 percent of players on Opening Day rosters this season were Black, according to USA Today Sports. That number is the smallest percentage since 1955 when the league was 89.8 percent white. The report, at the time, went on to say that five teams in the league didn't have a single Black player on their rosters, while nine others only had one. It's as if all of the money and brain power that was used to figure out how to celebrate Juneteenth could have been directed elsewhere, like getting more Black people on the field, and in the stands.
Of the 81 players selected for last season's All-Star Game, only five were African-American-born players. Only 7.2 percent of African-American-born players were on Opening Day rosters last season, which was lower than the 7.6 percent from 2021. Last season's World Series between the Philadelphia Phillies and the Houston Astros was also the first time since 1950 that the Fall Classic didn't feature a single U.S.-born Black player.
These are examples of how dire the straits have been for Black people in baseball for decades, but yet, you'll still find many who think the league deserves a pat on the back for their "efforts" because someone like Chuck D might have a soft spot for the sport.
"I just think the inner-city kids today are being priced out of the game period, and there's not that many playing to begin with," Milwaukee Brewers All-Star closer Devin Williams told USA Today Sports earlier this year.
"We need to do a better job to make this be a cooler sport, to appeal to the youth, and not be stuck in like old-time mindset.''
Kids can detect bullsh*t a mile away, which is probably why Major League Baseball's "diversity efforts" aren't working at the rate they want them to. It takes more than the celebration of one holiday to gain the trust of a group of people you've discounted for decades.

In 2016, Delaware's — this country's first state — former governor (Jack Markell) signed a resolution formally apologizing for slavery. It was a pointless gesture that made white people feel good about themselves. Over the weekend, and yesterday, Major League Baseball — this country's oldest professional sports league — held Juneteenth celebrations as if they could erase the past, and present, atrocities that happen to Black people in that sport. They were pointless gestures that made white people feel about themselves.
It's not wrong to celebrate Juneteenth, but it isn't right if the 19th of June and February (Black History Month) are the only times you celebrate Black culture. Seeing more Black faces on the field and in the stands is the answer, not more pregame performances from people with rhythm.