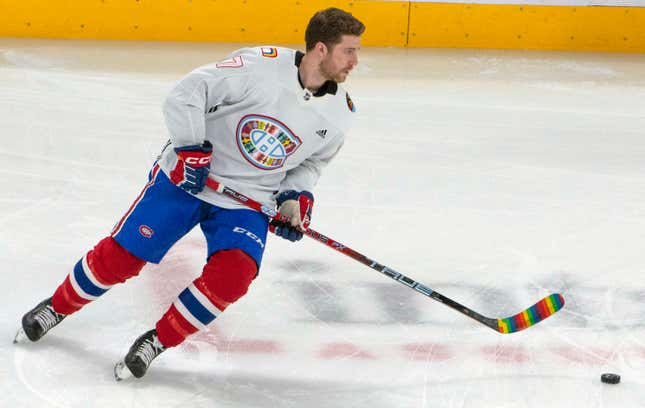 If you put NHL commissioner Gary Bettman and MLB commissioner Rob Manfred in a maze, which one finds the cheese the quickest? In recent weeks, both rat overlords of their sports have taken stances — veiled or otherwise — against Pride in order to "protect their players."
Kyle Schwarber did something that's only been done 11 other times in MLB history | Stats That Will Blow Your Mind
Bettman was the latest even though he didn't single out the Pride jerseys by name.
"I've suggested that it would be appropriate for clubs not to change their jerseys in warmups because it's become a distraction and taking away from the fact that all of our clubs in some form or another host nights in honor of various groups or causes, and we'd rather them continue to get the appropriate attention that they deserve and not be a distraction," Bettman said in an interview Thursday.

"Thirty-two of our clubs did Pride nights, some do Heritage nights, everybody does Hockey Fights Cancer, some do military nights. All of those nights will continue," he told Sportsnet after the league's board of governors meeting. "The only difference will be we're not going to change jerseys for warmup because that's just become more of a distraction from really the essence of what the purpose of these nights are."
The NHL made sure to specify that the commish's recommendation extends to all themed nights, while also confirming that Pride jerseys will still be designed and available for purchase. And that's the key to all of this.
Cancel all promotional nights indefinitely
As Bettman mentioned, every NHL club participates in Hockey Fights Cancer. It's pretty universal as no organization is dumb enough to come out pro-cancer because it's an unbiased disease that kills hundreds of thousands of Americans per year. So, it may shock sports leagues to hear that it's a statistical certainty more than a few of the people fighting cancer are of the LGBTQIA+ demographic, and by supporting people fighting cancer in general, they're also supporting everyone fighting cancer, including the LGBTQIA+ community.
I can do this exercise for pretty much every themed night at the ballpark. Breast cancer attacks anybody eligible to get it — not just White, Christian mothers. There are LGBTQIA+ people in the military, so those camouflage hats and uniforms also support them. Do you think Baby Yoda's cuteness only appeals to the hetero among us?
Hell no, that little alien is a cash cow, and will be a staple at Star Wars nights from now until I get all these themed charades canceled. The publicly stated reason for feel-good promotions may be the causes themselves. I'm sure a portion (or all) of the proceeds go to some foundation or advocacy group, and that's commendable.
Be that as it may, the real reason there's more themed and alternate apparel with each passing season is fans will purchase it. Buy the rainbow sweater, the St. Patrick's Day jersey, the Heritage Night hat, and whatever else you can slap a logo on that will move product.
There's nothing wrong with trying to make a buck, yet when it comes to issues of human rights and marginalized communities, either everyone gets a day or no one does. There's not a city in any of the four major sports leagues that's LGBTQIA+ free, and I don't have an iota of sympathy for the situation these greedy leagues got themselves into.
There was a moment when Pride was close to having its voice maybe not accepted but at least heard, yet once those who still have issues with the LGB part of the acronym realized they could seize upon people's misunderstanding of the TQIA+ portion, all hell broke loose, and now the updated Pride flag is one of the most controversial symbols in America.
That's why it's all the more important to normalize it and attempt to educate those who need to be taught something 13 times before it sticks. None of these causes should be optional to stand behind because none of these causes are pro-hate, or anti-whatever religion you believe in. They're about furthering understanding, and giving representation to communities who don't traditionally get a seat at the table but 100 percent deserve one.