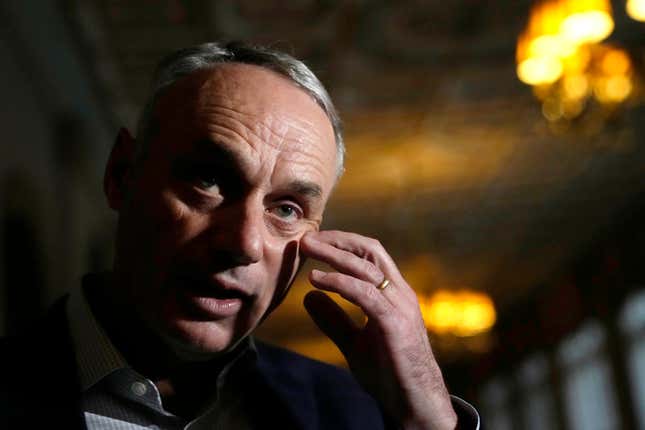 This year's MLB Opening Day feels different than recent iterations because the media doesn't have (most of) its usual talking points to complain about. The rule changes are going to shorten the games, discontinue the dialog about shifts, and provide baserunners with throw pillows to slide into. Yay! Now, if we can just convince the people who still watch baseball to stop worrying about strikeouts and to accept three-true-outcome at-bats.
Is Shohei Ohtani the frontrunner for MLB MVP in 2023? | Agree to Disagree
Commissioner Rob Manfred can tell us the alterations are "restoring baseball to when it was the most popular" all he wants, but the truth is MLB hasn't had the juice for a while now. If you were to poll sports fans as a whole, not just baseball die-hards, about what they'd like to see, a large swath would point to the World Baseball Classic final, and say, "That. Gimme more of that."
The difference between baseball and the other major American sports is the biggest names in the NFL, NBA, and NHL can carry flawed rosters to the postseason. It's great for the Shield that Aaron Rodgers can get the Packers within a win of the playoffs while nursing ayahuasca hangovers and apartment shopping in Manhattan. An NBA team with LeBron James has to be a special kind of awful not to make the playoffs.
If Mike Trout and Shohei Ohtani were basketball players, their team would be frontrunners for the title every year and leading First Take as if every day was the WBC. It's past time to see those two play in meaningful MLB games, and I'm not the only one trying to figure out ways to make it happen.
That said, there's no way to change the game to ensure we get apex predators in the playoffs without something ridiculous like making every Trout and Ohtani RBI worth double (triple?).
So if we can't do that, the powers that be are left with fan service, and that's always a risky proposition, especially in baseball.
Finding the fan-service sweet spot
I'm anti-fan service as much as the next Rise of Skywalker hater, but this is the sport where there was an anti-safety net argument solely because old people hate young people looking at their phones. Baseball badly needed some introspection, and I'm told admitting you have a problem is always the first step to recovery. The pitch clock is fine. We'll see if speeding up the pace of play still keeps me awake through the seventh inning. Killing the shift and huge bases are pluses, I guess.
My question is: What if it's not enough?
So much more needs to be repaired to return baseball to its national pastime mantle, and it isn't going to happen with a few tweaks to the rules. Yeah, the shift is annoying, but is that going to lessen the influx of staff no-hitters and unhittable pitches?
Today's sports fans want drama, big-time players making big-time plays, mind-numbing offenses, huge comebacks, polarizing dynasties, and as much hyperbole as you can fit into a column.
Baseball has a few of those things, but nowhere near enough to satiate a population that's been conditioned by cell phones and social media. Any time batters hit too many home runs, they, or the baseballs, are met with skepticism. The balls, players, or both are juiced! Hitting is too easy! We need to live in a world where history matters and records are impossible to break!
ROGER MARIS!
ROGER FUCKING MARIS!
Offensive marks are sprinted past in football and basketball on an annual basis, and fans have learned the inflation rates. The logical among us understand that eras differ and not every box score is made equal. However, baseball purists fetishize stats, which is funny because there's a new formula every season to prove who's the best player, and we're told that the typical numbers we valued on the back of baseball cards forever no longer matter. If the old metrics are obsolete, why the fuck do you care so much about them?
So what if the ball flies farther? It's harder than ever to make solid contact because every team has four to five flamethrowers with a Mario Baseball changeup in their back pocket. Move back the mound, something, anything, to bring hitting into the modern era.
When asked why MLB made all the changes, Manfred said, "The short answer is the fans." That's great. I just don't think the concessions needed to appease the Ritalin-riddled masses would be accepted because baseball's history is on an unreachable pedestal. There's no way to restore the old MLB. That's gone. Hitters didn't even try taking advantage of the shift and still struck out enough to give Mad Dog an aneurysm. What's next? Are we going to regulate launch angles?
This fan service is nice, yet I'm not sure the larger issue affecting the game — the outsized advantage for pitchers — has been properly addressed. Whether fans allow those changes to happen is up to them because the MLB isn't going to drag a group of people, who are already kicking and screaming, into the contemporary age.
Either accept it or go teach little leaguers how to slap hit.